Yamaha MusicCast compatible R-N602 Network Hi-Fi Receiver.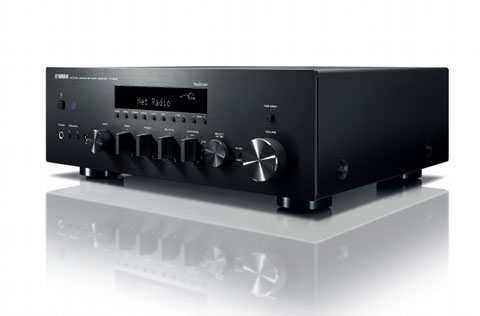 Source: Press Release, Last Accessed: 2015/11/24
Yamaha's R-N602 network Hi-Fi receiver brings together the company's legendary natural sound with connectivity to virtually any source. Integrating the Yamaha MusicCast wireless multiroom audio system, this receiver can access content from a wide array of home components, smartphones and streaming services. MusicCast makes it possible for this Hi-Fi receiver to stream content from other Yamaha MusicCast-enabled products and components connected to them, as well as PCs, NAS devices and even TVs.
All parts and materials integrated in the R-N602 have been carefully selected and tested to present the signature Yamaha natural sound from all sources, the company says. A high performance 24-bit D/A converter provides 5.6 MHz DSD native resolution and AIFF 192 kHz/24-bit audio for the faithful reproduction of high-resolution audio, including WAV/FLAC (up to 192 kHz/24-bit) and Apple Lossless (up to 96 kHz/24-bit) content. The R-N602 utilizes dual independent power supplies for analog and digital sound sources, as well as employing the original Yamaha ToP-ART (Total Purity Audio Reproduction Technology) design and engineering concept.
The R-N602 offers support for Pandora, Spotify, Rhapsody and SiriusXM Internet Radio and versatile streaming via Bluetooth and AirPlay, in addition to MusicCast. Like all MusicCast components, the R-N602 supports Bluetooth playback and can re-stream Bluetooth content to MusicCast-enabled speakers and other components in other rooms when on the Wi-Fi network. Content can also be streamed from the R-N602 to other Bluetooth devices such as headphones and speakers.
The intuitive and visually appealing MusicCast app for Apple and Android smartphones and tablets lets users browse and access content to play in one or multiple rooms. The app's interface offers numerous personalization features, such as enabling the Rooms menu to be customized with pictures from the user's own home while the source buttons can be renamed or even hidden. The R-N602 is also packaged with an easy to operate remote control.
For more information: http://www.yamaha.com/
---