Yamaha WXA-50 amplifier and WXC-50 preamplifier bring MusicCast Wireless Streaming to existing audio systems.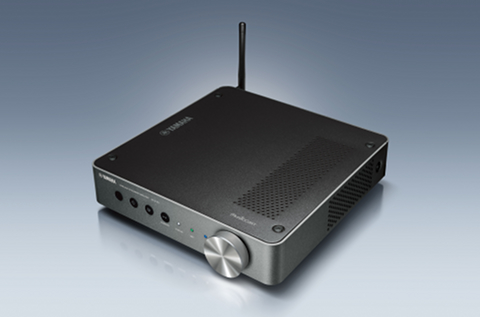 Source: Press Release, Last Accessed: 2016/04/12
Yamaha unveiled the WXA-50 Wireless Streaming Amplifier and WXC-50 Wireless Streaming Preamplifier – new products designed to supercharge existing speakers and home audio equipment with MusicCast streaming capabilities. Introduced in August 2015, MusicCast is a new way to bring music to every room in a home wirelessly with control provided by a simple app. MusicCast is already available on a wide and growing range of Yamaha AV receivers, wireless speakers, sound bars and Hi-Fi gear. It is ideal for those who want a broad spectrum of audio performance and content options to choose from.
The new WXA-50 amplifier significantly expands the versatility and enjoyment of the MusicCast multiroom wireless system by enabling the user to easily connect a pair of their favorite speakers to this stereo amp, then use an existing Wi-Fi network to access a music library, Pandora, Spotify, Rhapsody and more, directly from the MusicCast app. The WXA-50 can power any pair of traditional wired speakers, including bookshelf, tower, in-ceiling or outdoor speakers. It can also be used in tandem with other MusicCast wireless speakers, sound bars or receivers for wireless multiroom audio playback. The WXC-50 preamplifier is the perfect solution for those who want to get the most out of their existing home theater or Hi-Fi system. Connecting the WXC-50 to an AV receiver or stereo amplifier not only adds powerful streaming audio capabilities, but also enables wireless multiroom playback when used with other MusicCast products.
As with other models in the MusicCast system, the WXA-50 and WXC-50 are compatible with all types of music sources and streaming services, Internet radio stations, music files on smart devices and computers, Bluetooth sources, as well as external sources such as a TV, DVD, Blu-ray Disc, CD and even vinyl. They support playback of high-resolution audio files for more accurate sonic reproduction, including Apple Lossless (ALAC) files up to 96 kHz/24-bit, as well as FLAC, AIFF and WAV files up to 192 kHz/24-bit. They also support single-device playback of DSD streams up to 5.6 MHz.
Both the WXA-50 and WXC-50 feature premium audio components, including the same ESS Technology digital-to-analog converter (DAC) used in high-end Yamaha AV receivers and advanced circuit designs to deliver clear, detailed music reproduction. Yamaha proprietary sound processing technologies – such as a Compressed Music Enhancer, Volume Adaptive EQ and Advanced Bass Extension Processing – help improve sound performance even with less-than-ideal content or speakers.
Both models employ a solid metal chassis with a retro modern design in a compact enclosure that can be placed horizontally or vertically and easily integrated into a 1U audio system rack. Two units can fit side-by-side in a 19-inch wide rack space. Both also offer "pro-grade" connectivity and control features, including a wired Ethernet port, trigger and remote inputs and an auxiliary bus mode, making them great for custom integration applications.
The Yamaha WXA-50 (MSRP $499.95) and WXC-50 (MSRP $349.95) will ship in August 2016.
For more information: http://www.yamaha.com/
---