YG Acoustics unveiled details about their latest creation, the Sonja XV.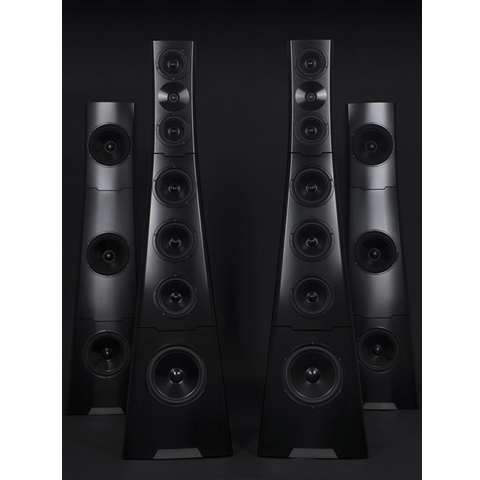 Source: Press Release, Last Accessed: 2016/07/27
Sonja XV is an extreme, four tower version of Sonja, created to celebrate YG Acoustics' upcoming 15 year anniversary. It combines everything that YG Acoustics knows about speaker design, and incorporates several next generation technologies that cannot be found elsewhere, the company says.
According to the press release, innovations include, first and foremost, a breakthrough tweeter made in-house, and proprietary cost-no-object bass inductors. These enhancements, together with an ability to move near limitless amounts of air, result in an effortless listening experience that is typically only associated with a live musical performance.
The bass, mid-bass and midrange units are made using YG Acoustics' proprietary BilletCore technology: the drivers are precisely machined out of massive slabs of aircraft grade aluminum. This unique process offers overwhelmingly superior dynamics, musical delicacy and low distortion due to industry leading rigidity and accuracy (tight tolerances). A pair of Sonja XV utilizes a total of 18 BilletCore drivers.
The brand new BilletDome tweeter is YG Acoustics' most complex mechanical invention to date: a resonance-free soft dome is supported by a stiff, light air frame machined from aluminum billet. The air frame weighs a mere 30 milligrams (a thousandth of an ounce), but its critical sections are up to 14 times thicker than a typical hard dome, so its structural strength is vastly superior even to domes made of the most exotic hard materials. The tweeter's motor is YG Acoustics ForgeCore system: in-house NC cutting introduces sophisticated 3D geometries into the magnet system. The resulting improvements, according to YG, is greatly reduced distortion and a sense of ease to the sound.
YG Acoustics crossover circuits are all created using proprietary software. DualCoherent technology provides the best frequency response and relative phase available, since YG Acoustics has the ability to optimize both time and frequency domains simultaneously. Sonja XV's bass crossover uses a brand new technology: ViseCoil inductors are CNC wound then encased in a vise-like milled structure to eliminate vibration and tighten tolerances. Residual loss is reduced by 24%, and linearity is improved by 60%. The result is better control over the woofers, far greater bass impact, and an easier job for most amplifiers. Sonja XV's mid and tweeter crossover uses ToroAir technology, where CNC wound toroidal air-core inductors are eliminating crosstalk common in crossover circuits.
Sonja XV's exquisite cabinet combines visual refinement with over-engineering. It is constructed of precision machined aircraft grade aluminum alloy. The multi layered structure is optimized for each module's specific frequency range. This ensures the lowest vibration achievable, even at extreme volume levels. FocusedElimination anti-resonance technology keeps mechanical losses low by combining the minimized turbulence of a sealed design with the low friction otherwise associated with enclosure-free concepts.
Existing pairs of YG Acoustics Sonja can be expanded to Sonja XV, without the need to replace the loudspeakers. Sonja XV, in addition to its state of the art two-channel (stereo) performance, is also fully compatible with multichannel audio and home theater systems. Sonja XV can also be combined with speakers from YG Acoustics' other lines for properly phase coherent multichannel systems.
For more information: http://www.ygacoustics.com/
---