Acuhorn added the media streamer/DAC R2R and the class-D power amplifier Rate to their product range.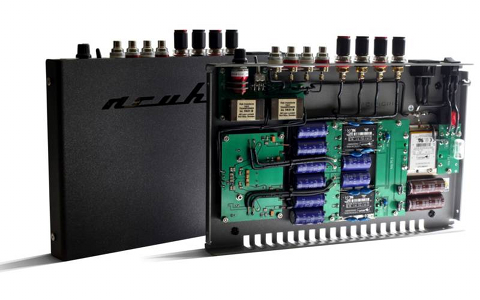 Source: Press Release, Last Accessed: 2017/10/10
Acuhorn from Poland, the company that recently unveiled the minimalist single-tube TT Original SET power amplifier, recently introduced two new products, the R2R media streamer and the Rate class D power amplifier, both devices with some interesting aspects, to say the least.
Acuhorn R2R is a compact (320x200x28mm) modern design that twins with the Rate amplifier offering both standard, coaxial and Toslink S/PDIF and I2S digital inputs, and a Raspberry Pi computer board for all the streaming workload. Digital-to-Analog conversion is performed through a discrete R-2R circuit designed by Soekris Engineering, an approach using a Xilinx Spartan-6 FPGA, offering up to 3.072MHZ oversampling.
The device can handle streams up to 384kHz (from the I2S input) and up to 192kHz (from the S/PDIF inputs). There is also support for DSD64 and DSD128 streams and for all the standard file formats, including MP3, AAC, WAV, FLAC and ALAC. The streamer is compatible with both the UPnP and the DLNA standards and can, also, stream internet radio and from various internet-based services like Spotify. Connection to the home network can be either wired, through Ethernet or wireless through Wi-Fi and AirPlay.
Output level is controlled in the digital domain and there are two pairs of single ended analog outputs (RCA), one buffered for normal use and one directly coupled to the converter board (with an output impedance of 625 Ohms), which can be used with devices with input transformers (like the Rate amplifier), or other tube amplifiers. Internal wiring is through Ohno Continuous Casting copper conductors and all the connectors are rhodium-plated.
Acuhorn Rate features the world's highest performing, high-power, monolithic class-D stereo amplifier chip by Texas Instruments and a Vicorpower power supply. Input stage includes Lundahl high impedance transformers, while the volume control is performed by a stepped attenuator (with 3dB steps) implemented by Welwyn Nichrome thin film SMD resistors. Output stage yields up to 150W per channel with 4-Ohm loads. Rate offers two single ended line-level inputs that can me selected from the back of the chassis. As in the R2R, all internal wiring is through Ohno Continuous Casting copper conductors and all the connectors are rhodium-plated.
Both products are already available (R2R €3.600,-, Rate €2.500,-).
For more information: http://www.acuhorn.pl/
---