Acuhorn unveiled new SE-Triode power amplifier with a minimalistic circuit approach.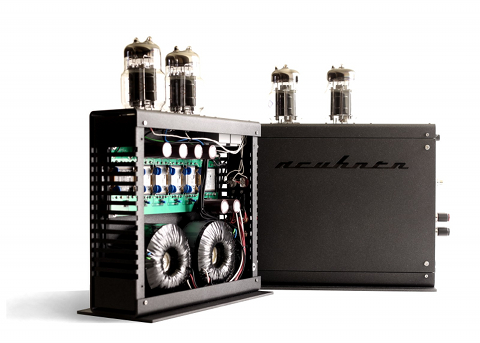 Source: Press Release, Last Accessed: 2017/08/31
Acuhorn's TT Original power is a single ended triode design, featuring just one 6C33C power triode per channel and a transformer coupled input, yielding up 6W per channel or 12W in a monoblock configuration.
According to the press release, the amplifier is an idea with its origins in the first Western Electric amplifiers and is an attempt to approach a pure audio signal path. It consists of an input transformer which directly drives the grid of a 6C33C triode and an output transformer with taps for 8-ohm and 4-ohm loudspeakers. This quite simple circuit is powered through a Vicorpower state-of-the-art DC-DC converter module and works under a 400mA bias current.
The input transformer is similar to the classic UTC LS-10 and the amplifier offers a back-panel input level control through which the user can adjust the transformer turns ratio in four 3dB steps, between 7.5x and 20x, mute the input or drive the 6C33C's grid directly from the source (a source with a maximum output impedance of 50-ohm is recommended).
The power amplifier can be used either as a stereo unit (being capable of 2x6W) or as a monoblock amplifier (being capable of 12W, but, obviously you need two of them for a stereo system). Input sensitivity is 2V for full power. Internal wiring is through Ohno Continuous Casting (OCC) copper conductors and output binding posts are rhodium-plated.
TT Original uses a vertical-style chassis with the two triodes mounted on the top for better cooling and measures 85x320x280mm (wxdxh). Weight is 11kg per chassis. The amplifier is already available at €4,800 (or €9,600 for a pair).
For more information: http://www.acuhorn.pl/
---