Astell&Kern's KANN media player.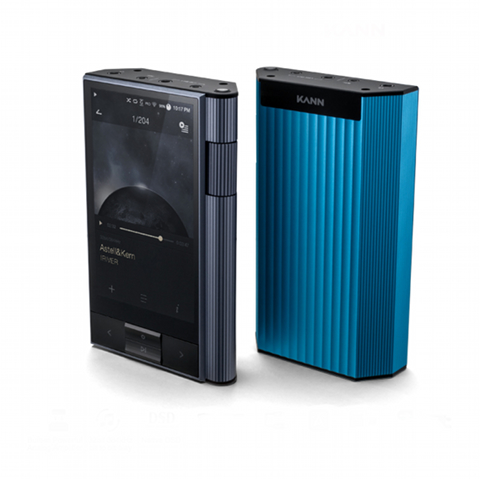 Source: Official website, Last Accessed: 2017/05/15
Astell&Kern has introduced a new product design that cleverly incorporates a high-performance amplifier into a player for a perfect merger of two independent devices. Supporting the output of 7Vrms when connected via high-gain balanced output, the KANN not only drives high-impedance headphones without an additional amplifier, but also reliably reproduces high-quality sound with low-impedance loudspeakers.
The new media player is capable for bit-to-bit playback of up to 32bit/384kHz with native DSD playback up to 11.2MHz and can be connected to external USB Audio devices that support DoP (DSD over PCM) or PCM. KANN is the first Astell&Kern product equipped with a 4-step adjustable line-out circuit to suit a home system, car audio or any other listening environment. Wireless networking is supported, through DLNA (Ver. 1.0), which makes it easy to work with PC/NAS on the same network. For control, the AK Connect app supports smartphone/tablet computer interfaces. The player also supports Astell&Kern's 2.5mm 4-pole balanced outputs (2Vrms). Unlike the unbalanced type, balanced output removes the common mode noise and increases the output level. KANN has an internal memory of 64GB and is expandable up to 512GB through the unit's dual memory card slots. Both standard SD cards and micro SD cards are supported.
Power is supplied by a 6.200mAh battery, enough for about 15 hours of continuous playback, but when using a fast charger, 6.5 hours of battery life is feasible with just one hour of charging. Both fast charger (9V/1.67A) and general charger (5V/2A) are optional and not included in the package.
The design of KANN stands apart from other Astell&Kern product lines, with its aluminum extruded body and unique, no-joint, design, delivering a durable yet sleek appearance. The innovative volume wheel makes one-hand control easy and, by positioning the main control buttons to the bottom of the front panel, convenient music search and quick home screen operation are intuitive.
For more information: https://www.astellnkern.com/
---