Audeze introduced the innovative LCD-i4: The In-Ear sibling to the LCD-4.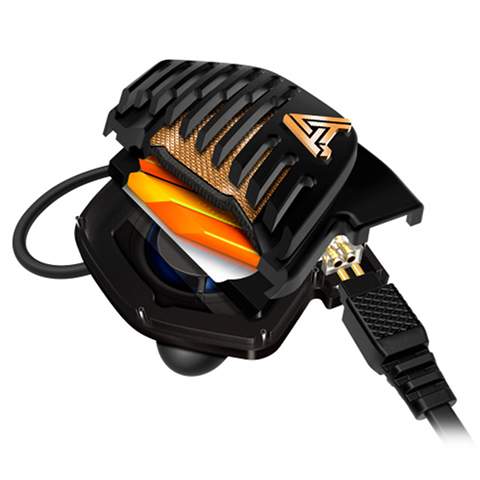 Source: Press Release, Last Accessed: 2017/05/18
Audeze launched the LCD-i4, attempting an all-out assault on making the absolute best in-ears, scaling down the renown LCD-4, and creating an in-ear headphone for music lovers desiring many of the performance qualities of the LCD-4 for both in-home use or while traveling.
According to the press release, the $2,495 LCD-i4 utilizes the same ultra-thin diaphragm as the rave-reviewed LCD-4: so thin it's about the width of a white blood cell. To this, Audeze added their patented focused magnet technology, Fluxor, and the patented Uniforce voice-coil technology. Designed and assembled at Audeze's California factory, its unique form factor is again a joint effort with strategic partner Designworks, a BMW Group Company.
Audeze said that they added more strength to their revolutionary iSINE-style housing by using a magnesium outer half, which adds real bass impact down to our 10Hz bass response. The magnesium also gives sound-deadening properties to help prevent ringing, and therefore, smearing of the mid-to-high frequencies.
Like the recently introduced iSINE 10 and iSINE 20 planar magnetic in-ears, the LCD-i4 presents a completely revolutionary listening experience, offering a truly wide and accurate soundstage, superior transient response, bass response flat from 900Hz down to 10Hz, and, because it is a single 30mm driver, it has a coherency of sound lacking in multi-driver designs, the company states. With an impedance of about 35 ohms, it should be used with a high-quality headphone amplifier.
Completing the new LCD-i4 package is a new premium, braided cable made of silver plated OCC copper with Kevlar threads for additional strength. Optional cables terminated in 4 pin XLR and 2.5mm TRRS balanced will be available soon. The weight of the remarkable LCD-i4 is only 12 grams per side.
"The LCD-i4 in-ear planar magnetic headphones approach the highest level of sound reproduction that the LCD-4's are so highly regarded for, enabling the discriminating music lover to enjoy that extraordinary level of performance with them both inside and outside their home," said CEO Sankar Thiagasamudram. "We're really proud of this groundbreaking work, and are yet another example of how Audeze pushes headphone innovation to the absolute limit of performance and practicality."
The new in-ear headphones ship in June and can be pre-ordered now at Audeze's retailers and website.
For more information: http://www.audeze.com/
---