Audeze introduced the LCD-MX4 headphones, targeting engineers and critical listening users.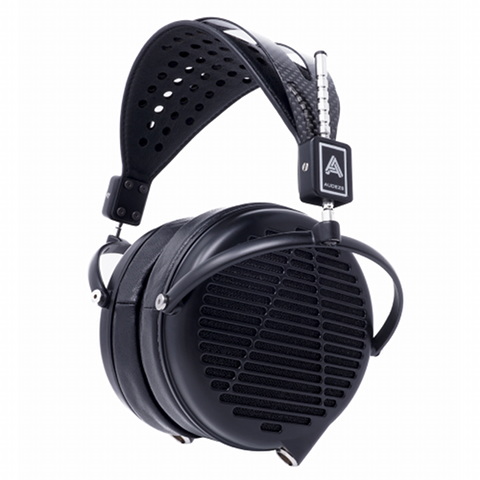 Source: Press Release, Last Accessed: 2017/10/13
Audeze recently announced the newest addition to their award-winning LCD Collection, the open-circumaural LCD-MX4. Designed for all the producers and mastering engineers, the LCD-MX4 is 30% lighter than other LCD models due to use of Magnesium, carbon fiber, and the highly efficient Fluxor magnets. Add to these, the new memory foam earpads, and the result is an extremely comfortable headphone, perfect for long listening/mastering sessions, the company says. According to the press release, the LCD-MX4 is the "love child" of the LCD-X and LCD-4 - it has the easy-to-drive diaphragm and voice coil of the LCD-X combined with the 1.5 Tesla magnetic force of the LCD-4. The new headphones feature planar magnetic drivers with large ultra-thin Uniforce diaphragms and double Fluxor magnetic arrays for better dynamics and frequency response. MX4's impedance is 20 ohms and its efficiency at 105 dB/1mW.
For producers and engineers, the LCD-MX4 offers a different soundstage than the LCD-X to help simulate the studio's sound, and the sensitivity to be easily driven by any mixing console or audio interface. The new headphone also support the Reveal plug-ins which apply filter presets specific to each headphone model. Reveal is a revolutionary plug-in developed by Audeze, to provide the listener with an experience similar to what he would hear from high quality studio reference monitors in an acoustically treated room (but without the pesky room reflections and reverb), the company states. The presets are not meant to fix any issues (or offer any crossfeed processing), but rather to enhance the listener's experience. For professional applications, Reveal can allow mixing and/or mastering in virtually any location while for casual listening, Reveal gives another "flavor" to be chosen by the listener. The Reveal plugin is available at no cost for macOS (10.10 and above) and Windows (7 and above) and is compatible with most Digital Audio Workstations (DAWs) or playback software that supports AU, VST or AAX plugins. Compatible DAWs include ProTools, Logic, Ableton Live, Digital Performer, REAPER and others. Compatible audio playback software includes JRiver, Audirvana Plus, Pure Music, VOX, Foobar2000 and others. The filters used by the Reveal plugin were designed for all commonly used sample-rates (44.1 kHz - 768 kHz), so no resampling happens no matter the sample-rate used.
The LCD-MX4 package includes a 1/4-inch to dual 4-pin mini-XLR premium LCD headphone cable, a 1/4-inch to 1/8-inch adapter cable and a professional travel case.
For more information: https://www.audeze.com/
---