Audio Analogue's PureAA Line.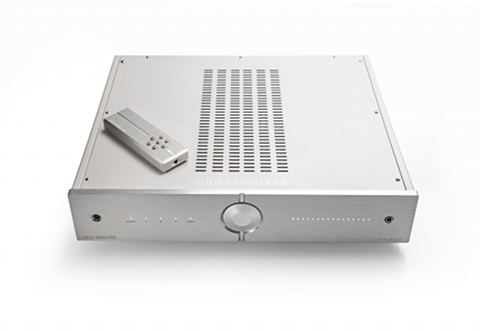 Source: Official website, Last Accessed: 2017/10/06
Audio Analogue announced a new line of products, the PureAA Line, made to recall the philosophy used for the most successful Audio Analogue products, the mix of simple design and reference-quality sound, with the best value for money available on the market. Thanks to the cooperation with Airtech laboratories, when developing the Anniversary line, some key points and ideas in the design have been shared also in PureAA line but, in contrast to the Anniversary products which are created to offer the best in a minimalist sense, the PureAA products offer more features to get the interest of those users looking for a wider range of functions and connection possibilities, the company states. To start with, the new series include two products, the AAcento integrated amplifier and the ΑΑphono preamplifier.
AAcento is the new integrated amp from Audio Analogue and the first product of the new PureAA line. The amplifier features a custom-designed 480W toroidal transformer, no global negative loop neither in the power amplifier nor in the preamplifier circuits, a digital controlled volume and doesn't make use of operational amplifier integrated circuits. A relay-based input selector is used to minimize non linearity effects, while SMD oversized resistors minimize thermal induced distortion.
Connectivity includes a MM/MC Phono input with a switchable subsonic filter, a class A, zero negative feedback, headphone amplifier, a balanced (XLR) input and a Direct Mode to use the integrated amplifier as a power amplifier in a home theater system. The power stage yields 100/200W at 8/4 Ohm loads for 1% THD+N.
The AAphono preamplifier is the latest product of PureAA line. Just like the AAcento amplifier, it is a product that perfectly fits in the Audio Analogue philosophy: simple design, highest level of sound performance, together with a remarkable ease of use, make it a perfect partner for turntables and cartridges of any kind and quality level, Audio Analogue says.
AAphono has been developed starting by a double operational amplifier configuration that permits to share the total gain between two amplifier stages, having in this way a more precise RIAA response. A big effort was made to obtain a good result in this parameter using high quality and low tolerance components in parallel configuration to averaging errors. A subsonic filter has been added between first and second amplifier stage and the circuit design has been completed with a triple power supply, for the digital and the two-channel analog part of the circuit. Capacitors used for RIAA equalization are all plastic film with low tolerance. AAphono is very versatile and simple to use, featuring adjustable input capacitance (for MM cartridges) and resistance (for MC cartridges), through the corresponding buttons under the unit, just behind the front panel.
For more information: http://www.audioanalogue.com/
---