Audio MusiKraft announced the world's first customizable phono cartridge.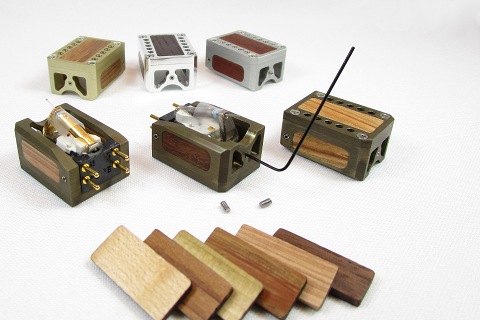 Source: Press Release, Last Accessed: 2017/05/09
Audio MusiKraft is a manufacturer of audio components dedicated to high fidelity. Founded in 2016 by Guy Pelletier, MusiKraft is a small core of experienced craftsmen and devoted music lovers. The company recently announced their cartridge shells, specifically designed for the Denon DL-103 and DL-103R phono cartridges, which are all customizable and available in three different metals along with a selection of twenty-four different wood varieties. Τhe available collection includes the S-Al, in clear or champagne anodized aluminum, the S-AlLi-103 in hand polished aluminum-lithium and the S-Mg-103 in chemical conversion coated magnesium. All the products with the "103" suffix include a DL 103 cartridge.
The MusiKraft shell is based on the legendary Denon DL-103 phono cartridge. The product has been designed by longtime vinyl aficionados in search of the ultimate and four years of research and development were invested, resulting in many prototypes and a long voicing procedure effort, the company states.
According to the press release, the present shell morphology is the culmination of all this work and offers many advantages to bring the Denon DL-103 to a much higher level of performance, along with sound and looks customization to the audiophile's taste. To adapt the shell, a modification to the original cartridge is required as the shell system replaces the standard plastic casing. When liberated from its plastic casing and merged to the MusiKraft shell system, the customer is then able to hear and exploit the full potential of the classic Denon cartridge.
For more information: https://audiomusikraft.com/
---