AudioSolutions unveiled the Vantage S 5th Anniversary floorstanding loudspeaker.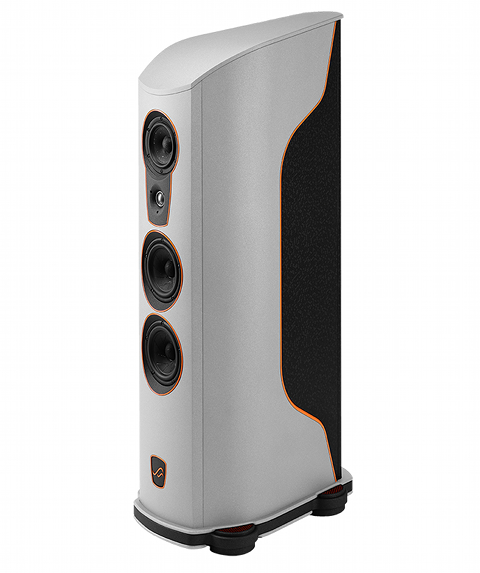 Source: Official website, Last Accessed: 2017/10/27
For their 5th anniversary, AudioSolutions created the Vantage Anniversary Series, with fresh looks, different kind of materials, and eye catching lines, to represent the company's vision in loudspeaker quality standards for upcoming products. The first product is the Vantage S, a four-way floorstanding loudspeaker with some serious punch.
According to an AudioSolutions statement, the Vantage Anniversary series is intended to be their flagship range, includes five models in total (three floorstanders, one bookshelf and one center loudspeaker) and it is naturally evolved from Vantage Classic series. The differences between the Anniversary and the Classic Vantage series lies not only in aesthetics, but also in the materials, techniques used and the overall design approach.
The whole series features a much more rigid cabinet construction compared to all previous models AudioSolutions had produced, with Siberian Birch plywood for the internal labyrinth-like structure as well as for the sidewalls and the curved top. The structure is modeled with the best software available for resonance free surfaces. The properties of the new cabinets are better than aluminum, AudioSolutions states, and this is due to the internal stress of the plywood, which damps any resonances with ease.
The Vantage S (for "Small") model is the smallest floorstander in the series, with its height reaching only 104cm in the front side and 121cm at the back edge, giving the impression of a really small loudspeaker. The company claims levels up to 112 dBSPL (C-weighted) at a listening position 3m away from the loudspeakers, in a 55m2 room, using music program and a sensitivity of 91dBSPL (2.83V/1m).
The loudspeaker features a newly designed 5-inch wideband midrange driver and a customized beryllium tweeter. Lower frequencies are reproduced by a down firing 8-inch aluminum cone subwoofer (up to the first crossover point, at 50Hz) and two front firing 5.5-inch paper-cone woofers, for the 50Ηz-200Hz band. The tweeter uses a mini horn to enhance performance by lowering distortion and raising efficiency.
Vantage S cabinet is finished with highly durable top coat made from crushed stone and polyurethane lacquer, which gives a matte surface with glittering particles effect. The loudspeaker features WBT bi-wiring terminals and top grade Jantzen crossover parts. The 5th Anniversary edition is available in wet stone gray color with vivid color (customizable) outlines combined with black top-grade 3d hexa-textured vinyl on the loudspeaker back.
For more information: http://www.audiosolutions.lt/
---