Audiolab M-DAC Mini: Small size, low price, big performance.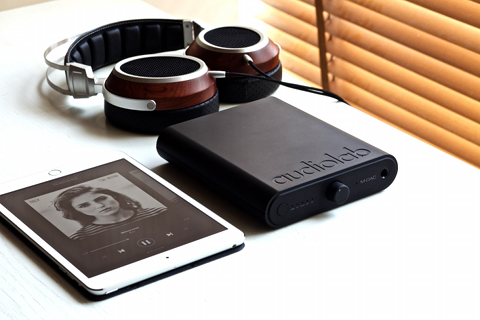 Source: Press Release, Last Accessed: 2017/05/31
Since the launch of the original M-DAC in 2011, Audiolab's range of standalone DACs has earned widespread acclaim and a host of awards. Last year's arrival of the range-topping M-DAC+ and an all-in-one DAC/amp called the M-ONE extended the family by building upon the same award-winning technology. Now, a fourth model is set to join the M-DAC range: M-DAC Mini.
As the name suggests, the M-DAC Mini is the smallest hi-res DAC/headphone amp in the range. At less than £300, it is also the most affordable. Moreover, it is the first M-DAC product to cut ties with the mains supply, its built-in rechargeable battery benefiting sound quality as well as adding versatility.
There are optical and coaxial digital inputs and outputs, Type-A and Mini-B USB ports (these are asynchronous with two dedicated master clocks to eliminate jitter), stereo RCA outputs and a high-quality 6.3mm headphone socket – great for all manner of headphones, including larger Hi-Fi designs. Wireless connectivity via Bluetooth, with support for the sonically superior aptX codec, adds further flexibility and convenience the company states.
The M-DAC Mini combines advanced digital-to-analogue conversion with a high-performance Class A JFET output stage and dedicated headphone amp section. According to the press release, the M-DAC Mini's DAC circuitry shares much with its big brother, the £800 M-DAC+. It similarly benefits from ESS Technology's patented 32-bit HyperStream DAC architecture and Time Domain Jitter Eliminator, unique to the Sabre32 Reference family. The M-DAC Mini is equipped to process PCM audio data up to 32-bit/384kHz via USB and, also, supports DSD64, DSD128 and DSD256.
The M-DAC Mini's analogue volume control incorporates a high-quality Alps potentiometer, while its discrete JFETs are individually measured and matched to minimize distortion and DC offset. The use of high-quality internal components extends to the low pass filter design on the DAC output stage, which uses Evox and Panasonic low-ESR capacitors for a more stable performance and increased reliability.
The inclusion of battery power for the first time in an M-DAC component is not simply about portability. It also benefits performance by supplying clean and stable DC power – free from the distortion introduced by common switch-mode power supplies, yet without the need for a bulky, costly audiophile grade mains PSU. A mains charger is included in the package, and iOS devices can be charged from the M-DAC Mini whether the unit is connected to the mains or not.
For more information: http://www.audiolab.co.uk/
---