Play it again, SAM: Audionet unveiled the SAM 20 SE Limited Edition, anniversary integrated amplifier.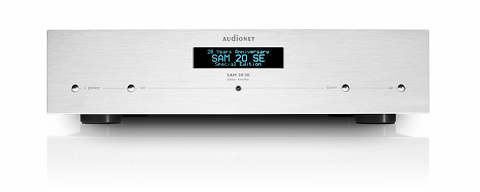 Source: Press Release, Last Accessed: 2017/11/20
Celebrating their legendary integrated amp's 20 years anniversary, Audionet recently announced the best SAM ever: the strictly limited Special Edition SAM 20 SE (20th Anniversary), a heavily upgraded version of an already highly acclaimed device.
According to the press release, SAM 20 SE aspires to be a milestone in German amplifier construction and, towards this goal, features a new set of MOSFET power transistors with extremely low series resistance for "a higher and more detailed fidelity in transient response", as used in the new worldwide benchmark WATT, an extremely potent and acutely fast power supply, based on an encapsulated and cast-in 700 VA toroidal transformer and new extremely low impedance and exceedingly fast audio-grade main capacitors with a 25% higher capacitance per component (15,000uF instead of 12,000uF per cap) for a total filter capacitance of 120,000uF instead of 96,000uF used in the standard model.
The upgraded circuit uses high grade mica capacitors in all places with crucial affect on sound, the company saying that their natural materials "ensure a unique neutrality of sound". SAM 20 SE also benefits from optimized inner wiring, with all signal cables being made of silver and gold "providing highest resolution and finest details". The amplifier includes a phono preamplifier card featuring new, highest grade, integrated operational amplifiers with extremely low-noise and fast FET inputs and, also, optimized mica capacitors.
To differentiate the new, limited edition anniversary model from the previous one, Audionet offers a new housing with engraved front panel and a re-designed back panel and a dedicated SAM 20 SE metal remote control, as well.
For more information: http://www.audionet.de/
---