AVM unveiled the Ovation CS 8.2 all-in-one system.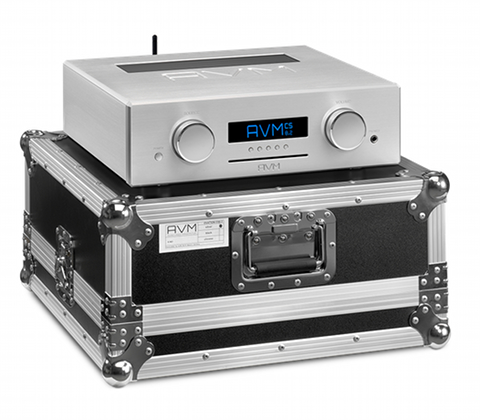 Source: Press Release, Last Accessed: 2017/09/06
AVM introduced the Ovation CS 8.2 – a brand-new all-in-one system that encompasses every element of AVM's three decades of award-winning engineering experience in one massive aluminum case. The CS 8.2 from AVM's flagship Ovation Line features a staggering 2x500W integrated power amp, a Pure CD drive exclusively provided by Teac, a Hi-Res DAC (384kHz, DSD128), and Hi-Fi streaming capabilities with access to Tidal and Qobuz services. The included and custom-designed Ovation 803 T tube line stage gives the CS 8.2 its highly distinctive sound character and is made visible through a tinted glass window in the engraved top cover. The company also introduced the CS 6.2 system, with a lower price. Both are available in silver or black finish.
The two flagship models are close relatives and only differ in their power amps: The CS 6.2 uses solid state technology in all amplifier stages, while the Ovation Tube Line Stage of the CS 8.2 creates a unique warm and natural sound reproduction, the company states.
In the CS 6.2 and 8.2 the modular design principle of the Ovation Line premieres in an all-in-one unit, i.e. the DAC is designed as an exchangeable module. In case, future formats with higher resolutions require new DACs, the CS 6.2 and 8.2 are prepared for this as the DAC module will be upgradeable.
Like all other Ovation Line units, the CS 6.2 and 8.2 offer versatile connectivity and control possibilities. Digital inputs including an asynchronous USB-input and SPDIF inputs and outputs are available. Connected NAS or external hard drives may also be operated as well as USB thumb-drives. The firmware of the streaming engine is easily upgradeable online.
With the AVM RC S App or the optional remote controls (RC 3 or RC 8 made of solid aluminum) the CS 6.2 and 8.2 may be controlled easily. The programmable RC 9 remote control with color display is available as an option, including a charger cradle.
As standard versions, the CS 6.2 and 8.2 are available in silver or black anodized polished aluminum. As an option a massive chrome front panel is available (with an upcharge). Also the chrome knobs for volume and input selection may be customized on request.
For more information: http://www.avm-audio.com/
---