New technology meets classic design in the new Bowers & Wilkins 700 Series.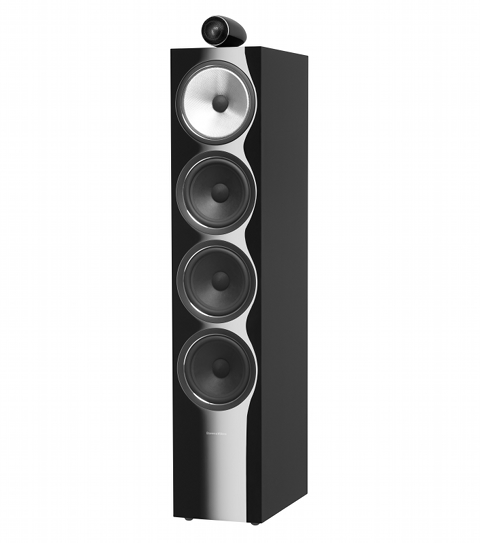 Source: Press Release, Last Accessed: 2017/09/06
The new 700 Series develops the ethos of the CM Series it replaces, adds technology from the 800 Series Diamond and new, bespoke acoustic innovations to produce the best-performing range of loudspeakers in its class. The series sees the implementation of technology first seen in the high-end 800 Series Diamond. Technologies that have trickled down from the 800 Series Diamond, include the revolutionary Continuum midrange driver, which -according to the press release- is the cleanest and most transparent midrange cone material Bowers & Wilkins has ever used. The new 700 Series also benefits from a bespoke version of the Aerofoil profile bass driver plus improved tweeter-on-top housings on the two flagship models that are crafted from solid billets of aluminum. Both were first seen on the 800 Series Diamond.
New technologies come first and foremost in the shape of Carbon Braced tweeters. This new technology delivers sweeter, cleaner high-frequency performance even further up the audible bandwidth than the previous Aluminum Double Dome tweeters, and is the best-performing non-Diamond tweeter that B&W has ever produced, the company states.
The new 700 Series comprises eight models, two with Tweeter-on-Top technology, including the flagship 702 S2. The range includes three floorstanding models, three stand-mount speakers and two dedicated center-channel models for surround sound and home theater use. All models are available in a choice of Gloss Black, Satin White and Rosenut finishes.
The launch also sees the announcement of a new subwoofer. The fourth model in the new DB Series, the DB4S is a subwoofer that shares drive unit technology, amplification and preamp section with the dual-driver DB2D, but in a single driver format. It features a single 10-inches Carbon Aerofoil woofer in a forward-firing configuration plus 1000W of amplification and a digital preamp section with Dynamic EQ, Room EQ and an App-based configuration system. It is available in colors to match the 700 Series.
For more information: http://www.bowers-wilkins.com/
---