PX: B&W launched their first adaptive wireless noise canceling headphones.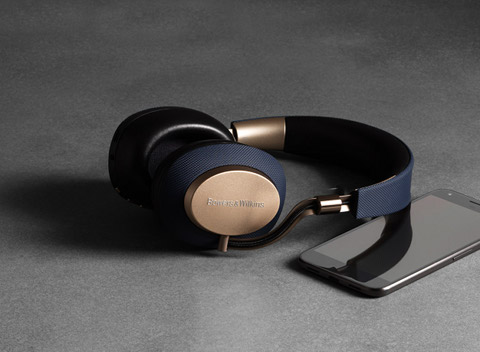 Source: Press Release, Last Accessed: 2017/10/03
Bowers & Wilkins announced the launch of the PX headphone, the company's first adaptive noise canceling wireless headphones. Its design is focused on optimizing sound quality, and it is created in the same labs and testing environments by the same acoustics engineers used to create B&W's top quality loudspeaker technology as seen in their flagship 800 D3 loudspeakers.
PX is, also, Bowers & Wilkins' first smart headphone, with sensors that allow listeners to control music in a way that feels completely intuitive. PX works by responding intelligently to natural user behavior - pick them up and the headphones will switch on immediately and automatically resume playing your music; put them down and they return to stand-by mode. Lift an ear cup to talk, or hang them around your neck, and PX will pause the music, resuming playback when you're ready to listen.
To provide an optimum listening experience in different environments, PX has three adaptive noise canceling modes, which users can select and customize with the free app. The "City" mode allows through traffic noise, the "Office" mode removes typical background noise and has a sub-mode to allow through voices to easily hear colleagues when they talk, while the "Flight" mode cancels ambient engine noise as well as other distractions. The app also enables firmware updates for further innovations.
The PX drive units feature the same angled design previously released on the P9, for a more convincing soundstage. Its smart suspension system allows PX to produce the precision required for great high frequencies, while maintaining the compliance needed for deep and dynamic bass, the company states.
PX use the latest aptX HD Bluetooth technology for 24-bit audio resolution to get the best possible sound from all sources and music file types. The PX provides 22 hours of playback in wireless noise cancellation mode, or 33 hours in wired noise cancellation mode. According to the press release, the design of PX upholds B&W's tradition of using only high-quality materials, while offering a distinctive contemporary look. The headphones feature ergonomically designed elliptical ear cushions for superior comfort and the best possible acoustic seal, and come with a soft leather headband and a robust ballistic nylon ear cup exterior. PX is available in either Space Grey or Soft Gold etched-aluminum finish.
For more information: http://www.bowers-wilkins.com/
---