Cable + Pro: Burson's active interconnection cable.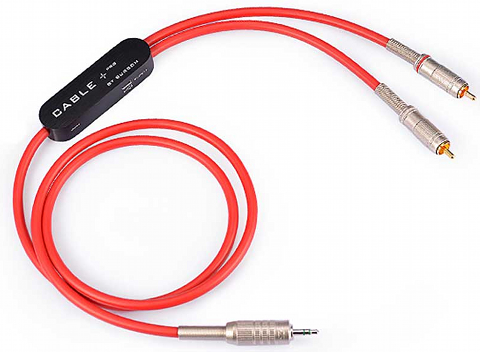 Source: Official website, Last Accessed: 2017/05/10
The Cable + Pro interconnect is an attempt to control the relationship between the output impedance of a source and the input impedance of the amplifier to which it is ultimately connected. In practice, it is a low output impedance interconnect/buffer amplifier combination, featuring the widely recognized Burson's V5 audio modules and, according to the details published, removes impedance mismatch so the user can hear 100% of his system.
Burson's audio modules introduced 10 years ago and are -in fact- discrete operational amplifier circuits, designed to replace the respective integrated circuit parts inside audio equipment in a pin-to-pin matching architecture. The V5 module, used in the Cable + Pro buffer, features 0.5% tolerance metal film resistors and its active components are matched FETs. This approach, results in a buffer circuit with a frequency response of DC-55kHz (±1dB), a THD figure less than 0.005% and a signal to noise ratio greater than 118dB (at 6dB gain). Output impedance is 3 Ohms. The whole circuit for both channels is shielded in a CNC machined aluminum enclosure. The cables and the plugs used are from Canare, the cable and connector of choice for most recording studios, radio stations and concert halls around the world, the company states.
At this time, the Cable + Pro is offered in three different configurations, the R2R, terminated with RCA plugs on both ends, the A2R, terminated with a TRS 3.5mm jack on the input side and RCA plugs on the output side, and the A2A, terminated with TRS 3.5mm jack on both ends. It is more than obvious that the Cable + can be used only in one direction (since it includes an amplifier!).
The Cable + is already available at a cost of $199 (in Burson's web shop), including an external power supply, needed for the buffer.
For more information: https://www.bursonaudio.com/
---