Blu MkII: Chord's new FPGA-based upscaling transport.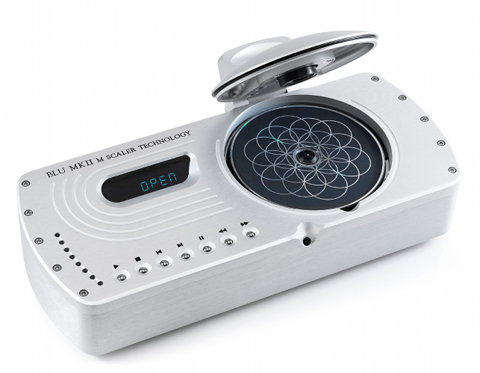 Source: Press Release, Last Accessed: 2017/02/01
Known for its world-class amplifiers and its class-leading FPGA-based (Field Programmable Gate Array) DACs, Chord Electronics has implemented the latest FPGA technology into a next- generation CD transport. The new Blu MkII, which will replace the original Blu, incorporates a powerful new FPGA core with extraordinary capability.
According to the press release, Chord Electronics' digital consultant, Rob Watts, has harnessed the power of the new Xilinx XC7A200T FPGA, which has a standout 740 DSP cores, to develop sophisticated WTA (Watts Transient Alignment) filtering and upscaling algorithms which can output digital data at 705.6kHz (16x CD's 44.1kHz native resolution). When partnered with Chord's DAVE DAC/preamp, with its 705.6kHz-capable digital inputs, the Blu MkII sets a new technical benchmark for CD performance, while redefining sound quality from the medium, the company states.
The processing power of the Xilinx XC7A200T FPGA has enabled a key breakthrough in tap-length (the technical indicator of how complex the interpolation filter is). According to Chord, to perfectly reconstruct an analogue signal, an infinite tap-length filter is required. The original Chord DAC 64 (1999) had 1,024 taps; Hugo (2013) 26,000 and DAVE (2015) 164,000. Each successive increase in tap-length, together with continuous improvements to the WTA algorithm, has given significantly better sound quality. The new Blu MkII offers an incredible 1,015,808 taps!
A comprehensive suite of high-performance connectivity is offered, including (for the digital outputs): AES (to 176.4KHz); single optical, single S/PDIF and dual BNC S/PDIF; the dual BNC S/PDIF output transmits up to 768kHz into Chord's DAVE DAC/preamp using twin cables. The Blu MkII also features a BNC S/PDIF digital input, meaning that it can also be used a standalone high-performance upsampler. Further features include Chord Electronics' proprietary high-frequency switching power supply and a dedicated CD-only laser mechanism.
Chord's Chief Designer, John Franks, has streamlined the aesthetics with a beautiful new top-plate that simply features the most commonly used functions. A useful display gives track information and Chord's elegant hinged self-supporting lid design offers a touch of class when loading/removing discs and positions the disc-puck perfectly.
For more information: http://chordelectronics.co.uk/
---