Classé's Sigma SSP MkII debuts Dolby Atmos, DTS:X and upgraded HDMI.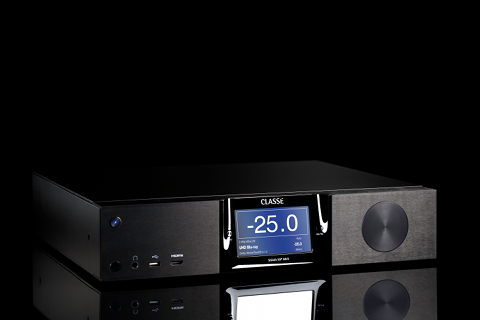 Source: Press Release, Last Accessed: 2017/02/07
The slim and elegant Classé Sigma SSP, has been upgraded with the addition of new audio DSP and HDMI hardware. The eight-channel Sigma SSP MkII supports Dolby and DTS 3D audio formats when configured as a 5.1.2 channel system and passes 4K UHD video at 60 Hz with HDCP 2.2.
A powerful new dual DSP module featuring a Texas Instruments 456 MHz DA830, a dual core floating-point audio processor with ARM9 and an audio-specific DA810 32-/64-bit floating point DSP, provides the needed processing power to accurately decode the latest 3D audio formats and perform the many post-processing capabilities that set the Classé Sigma SSP MkII apart, the company says. An upgraded HDMI board adds HDMI 2.0 features like pass through of UHD video (4K at 60 Hz) and HDCP 2.2 compatibility for the best performance and added convenience when connecting to UHD sources and displays.
In keeping with Classé's long-standing practice of providing upgrade paths whenever possible, original version Sigma SSPs may be upgraded to the new standard by installing a comprehensive hardware upgrade and updating the firmware. According to the press release, for speed and convenience, MkII upgrade kits consisting of four new circuit boards may be installed in Sigma SSPs either in the customer's home or the dealer's shop—no need to return the unit to the factory.
"Building on the outstanding value proposition that defined the original Sigma SSP, the MkII version brings a technology upgrade aimed squarely at raising the user's experience to another level," said Classé president Dave Nauber. "We are particularly pleased to support owners of the original Sigma SSP by offering an upgrade path that gives them every advantage of the latest model. A properly executed 5.1.2 system like this can envelope you in a true 3D experience."
First introduced in 2014, the Sigma SSP has been optimized as a high-performance stereo preamp/processor with video switching, multichannel processing and bass management included. Connections for USB and Ethernet streaming augment the basic HDMI, coax and optical digital inputs, while balanced and single-ended analog inputs, including an optional phono stage, made the Sigma SSP a truly versatile preamp/processor.
The announced US retail price for the Sigma SSP MkII is $6,000 and the Upgrade Kit is $1,000 (the price of the 2014 version SSP was $5.000). Consult your dealer for further information.
For more information: http://www.classeaudio.com/
---