M11: Four-channel integrated amplifier from Daniel Hertz.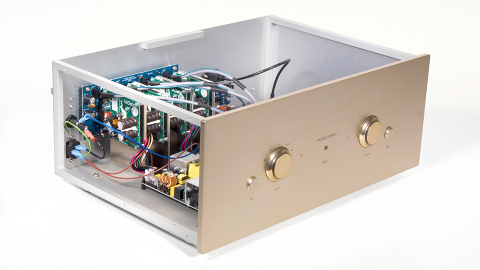 Source: Press Release, Last Accessed: 2017/02/23
Daniel Hertz's M11 four-channel integrated amplifier M11 is the first totally integrated solution for driving bi-amplified loudspeakers with no-compromise performance. The amp uses advanced Class D technology with 384k native resolution, and has 4 equal performance power amplifier channels combined with programmable active crossovers, runs the proprietary Mighty Cat system tuning software and features high current stereo operation mode, and 24 bit wireless connectivity. According to the press release, the M11 produces 4x200W at 8 ohm loads and 4x400W at 4 Ohm loads. Mark Levinson says, "The M11 offers unprecedented sonic advances that preserve the soul of analog with all the advantages of the latest digital technology. The days of the analog beast amplifiers are over."
Advanced system tuning is a very exciting new development. No tweeter, woofer or speaker cabinet is perfect, the company states. The M11 offers for the first time the opportunity to realize much more of the potential of the best speakers with proprietary Daniel Hertz Mighty Cat software embedded in the DSP of the amplifier.
Bi-amplification is required for state of the art music playback. The best bass performance requires large woofers driven directly from a dedicated power amp using active crossovers in the signal path to avoid unacceptable degradation of performance. Until now, music lovers who want to use bi-amplified speakers have had to experiment with complex systems including crossovers, multiple power amplifiers, and a quantity of cables. The Daniel Hertz M11 one box solution just connects directly to bi-amplified speakers by four wires per speaker, eliminates the mess of boxes and cables previously needed to create bi-amplified speaker systems, and creates the best possible sound quality.
Intelligent modular design of the M11 makes the internal construction clean and compact with short signal paths. The external panels are fastened to solid 6x6mm aluminum bars using stainless steel screws. The amp chassis is available in two finishes - clear (silver) or gold anodized aluminum.
M11 features a 48kHz wireless connectivity with sonic quality equal to wired connections, three analog inputs, a USB port and a coaxial standard digital input, both capable of 24-bit/192kHz.
For more information: http://www.danielhertz.com/
---