Denon unveiled new app for precise multichannel sound set-up.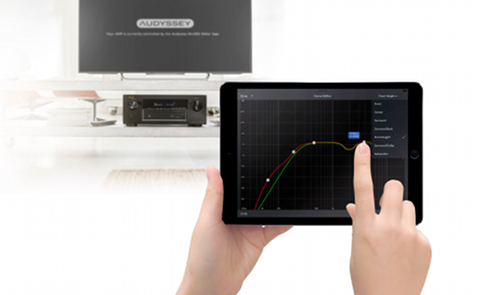 Source: Press Release, Last Accessed: 2017/04/04
Denon has launched a new Audyssey MultEQ Editor app, allowing home theater enthusiasts to refine and customize the set-up of their Denon AVR-based systems for better surround sound.
The latest Denon audio video products use Audyssey MultEQ for simple, accurate one-touch set-up and calibration of the system to the room in which it's used. The Audyssey technology detects the size, type and configuration of speakers used, and -also- measures their response in the room for optimal performance – whether running a simple 5.1-channel set-up or a full-blown Dolby Atmos/DTS:X immersive surround system.
AVR owners can now go even further: using the new Audyssey MultEQ Editor app they can go "under the hood" to view and adjust the settings made by the automatic set-up. They can take full control of every aspect of configuration, allowing detailed tuning and customization of the sound. This means users can adjust the performance more precisely to cope with any specific problems in their room, and tailor the surround experience to their personal preferences.
The app, which is compatible only with certain Denon models (AVR-X6300H, AVR-X4300H, AVR-X3300W, AVR-X2300W, AVR-X1300W and selected upcoming 2017 Denon Network AV receivers) allows users to view the Audyssey MultEQ speaker detection results to check and modify the configuration, and adjust for any unusual speaker set-ups, view "before" and "after" results of the Audyssey calibration, edit the Audyssey target curve for each channel pair to suit individual tastes, adjust the overall EQ frequency roll-off for each channel pair, switch between two high-frequency roll-off target curves, enable/disable midrange compensation to make the sound brighter or smoother and save calibration results.
The Audyssey MultEQ Editor app, available for iPhones and iPads via the iTunes store, and for Android devices via the Google Play store, can be purchased for €19.99.
For more information: http://www.denon.com/
---