The Denon HEOS AVR: surround yourself with movie sound and fill your home with music – without the wires.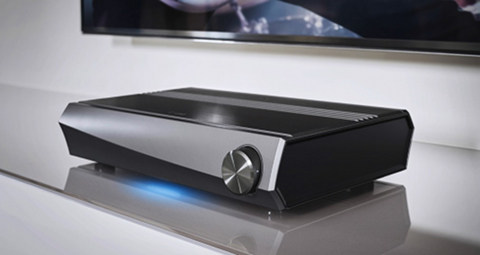 Source: Press Release, Last Accessed: 2017/03/08
"Surround yourself with sound, not wires": that's the idea behind the stylish new Denon HEOS AVR, a device which combines style with the ability to deliver the surround sound experience- all without cables cluttering the room to the rear channels, offering up to 5.1 channel surround sound with the simple set-up and operation of a soundbar.
The HEOS AVR combines 5.1-channel surround sound with HEOS wireless multi-room music streaming. It can be used with wireless HEOS speakers for the surround channels to create a cable-free multichannel system. And it will drive conventional speakers with its built-in, 50W per channel, Class D amplification or will work with a mix of both wired and wireless speakers.
The HEOS AVR is completely future-proof with the latest HDMI standards. Four HDMI 2.0a/HDCP 2.2 inputs make sure users can enjoy movies in 4K Ultra HD and are compatible with Blu-ray and online video streaming formats. Its ability to learn TV remote commands makes operation of a home theater totally intuitive, with main AVR functions available from the TV remote. The Audio Return channel capability means just one cable is needed between the TV and the HEOS AVR for superb sound and vision. The receiver delivers TV shows and movies in surround sound, and it can stream music from a home computer or online services, such as Spotify Connect, Pandora and TIDAL, for limitless entertainment.
Extra HEOS speakers in any room can be added to the system at any time. Users can effortlessly play different music in every room, or bring the whole house together to play the same tunes for party time via the HEOS app. Multiple presets are provided for favorite functions, and to stream music directly from a phone or tablet via Bluetooth.
For more information: http://www.denon.com/
---