HEOS Bar: A complete home theater and music-streaming solution.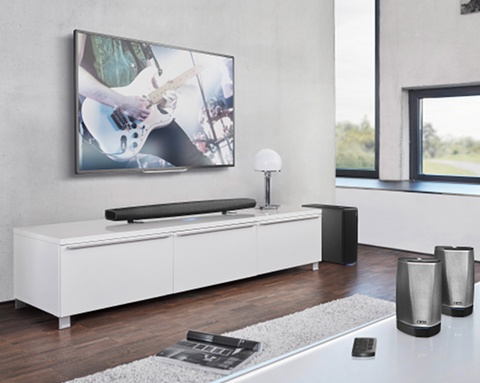 Source: Press Release, Last Accessed: 2017/03/15
Denon introduced the HEOS wireless soundbar and HEOS subwoofer as part of their wireless multi-room sound system. The two stylishly designed new products offer high quality home theater soundtracks and music playback, as well as an innovative feature set.
The HEOS Bar not only plays music from the user's own library, but also direct from a phone via Bluetooth, and via favorite streaming services from the world's leading cloud sources like Spotify, Pandora, TuneIn, Rhapsody, iHeart Radio, TIDAL, SiriusXM, Soundcloud and Amazon Music.
According to the press release, apart from a TV soundbar with state of the art signal processing, amplification and drivers, the HEOS Bar is a complete music-streaming solution, able to integrate into a HEOS multi-room system. It's a three-channel design, suitable for screens over 50 inches and able to be used on a shelf or wall-mounted. The device uses nine high-performance drivers in a 45-degree configuration to spread sound around the room.
The same Denon DSP virtual surround technology used in Denon's award-winning AVRs is also included in the soundbar, to decode multi-channel audio and give the impression of a surround field, without additional loudspeakers being installed. The Bar can be also integrated with a pair of HEOS speakers as well as the equally wire-free HEOS subwoofer. The soundbar features four 4K-compatible HDMI 2.0a inputs and offers Dolby True HD and DTS-HD Master Audio processing.
The new HEOS subwoofer can be used vertically or horizontally and features two custom-made 5.25-inch (13.5 cm) drive units combined with sophisticated Class- D amplification and advanced digital signal processing for optimal default sound settings. Additionally, there are user-selectable settings available, all accessed by the HEOS app that makes set-up simple.
For more information: http://www.denon.com/
---