Denon added new models to their Design Series, including an entry level amp.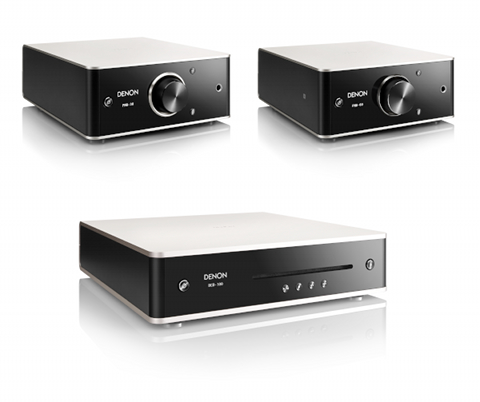 Source: Press Release, Last Accessed: 2017/08/28
Denon recently expanded its acclaimed Design Series with the addition of three new models. The PMA-60 amplifier builds on the success of the PMA-50, which it replaces, while the PMA-30 offers an even more affordable entry-point for the range, and the DCD-100 CD player is designed to match the DRA-100 network audio receiver.
The Denon PMA-30 features Qualcomm apt-X low latency decoding that delivers CD-quality sound and multiple digital inputs for compatibility with digital audio sources like a set-top-box or TV, along with an analog stereo input for legacy analog sources. The amplifier is rated at 40 watts per channel into 4 ohms, it is sized to fit just about anywhere, and it can be positioned horizontally as well as vertically. PMA-30 can decode up to 24-bit/192-kHz ALAC, FLAC and WAV lossless files via the digital inputs ans is equipped with a dedicated headphone amplifier circuit that features a high speed ultra low distortion wideband op amp that's paired with a fully discrete final output stage. To accommodate the widest range of headphone types, the PMA-30 features an adjustable headphone impedance control, with 3 settings for low, medium and high impedance headphones which provide proper matching of headphone impedance and amplifier gain.
The PMA-60 features Denon technologies developed over many years, such as the Advanced AL32 audio processing it uses to turn digital data to analog signal. With analogue and digital connectivity (including a USB-B port) as well as Bluetooth, audio streaming from a computer or a portable device is a piece of cake. The output stage is capable of 50W per channel and its compact design allows the amp to fit in limited spaces, even in a vertical position – the orientation of the OLED display will adjust accordingly.
Featuring the same high quality styling and finish, the DCD-100 is the perfect partner for the DRA-100 Network Receiver. For connection to other audio components that do not have a digital input, the DCD-100 features a high quality D/A conversion block with 32-bit/192-kHz D/A converter, while its OLED display shows the CD's total tracks and total time, as well as the track number and track time, and the song title, artist name and album name (depending on the disc), along with icons for random mode, repeat 1 and repeat all modes, and a folder icon for data discs.
For more information: http://www.denon.com/
---