Optical cartridge pioneer DS Audio launched the new entry level DS 002.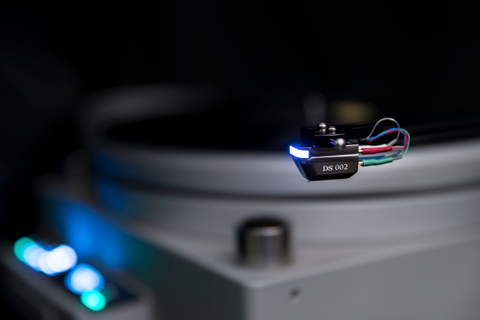 Source: Press Release, Last Accessed: 2017/03/09
Four years ago, DS Audio pioneered the world's only optical phono cartridge, initially intended for its native Japanese market. However, the response was overwhelming in terms of both reviews and sales that the company was spurred to adopt worldwide distribution. Two years of intense research and development later, the company expanded its range with the new flagship Master 1 featuring a number of significant advances over the original model.
The new DS 002 retains this same wider compatibility as the Master 1, as well as the basis of the Master 1's technology – with its enhanced optical-mechanical system and wire suspended cantilever, also delivering an output of 500mV and more with 25dB of channel separation. But to achieve its more affordable price point, the DS 002 sports an aluminum chassis, aluminum cantilever and a classic Shibata stylus. It also comes with a more compact and lightweight phono stage/equalizer, in which a newly updated power supply features ten 33,000μF capacitors delivering effortless power. The phono stage/equalizer uses a special shielding that both isolates internal noise from the power supply while also blocking external RF and other environmental interference. The shield is 1.5mm thick and covers the entire transformer.
Optical cartridges aren't new. Many audiophiles may remember them from the 1970s, when their performance was hailed as a radical step forwards. In contrast to moving-magnet (MM) and moving-coil (MC) cartridges that work on the principle of electromagnetic induction, an optical cartridge uses a beam of light to read stylus/cantilever movement. Supporters of this technology see a twofold advantage: it makes the cartridge much lighter and more agile, while also completely eliminating the frictional force caused by magnets and coils and the resulting influence on stylus/cantilever movement, while a further key advantage lies in the cartridge's output. In conventional MM and MC designs, the output signal depends on the velocity at which a tiny magnet or coil moves in an electromagnetic field – hence the need for equalization, while in an optical cartridge the output signal depends on the distance that the styles moves, so there are no disparities between high and low frequencies and low frequency reproduction is much enhanced, since an optical cartridge can theoretically detect signals as low as 1Hz.
For more information: http://www.ds-audio-w.biz/
---