Grandioso G1 is Esoteric's Master Clock Generator flagship.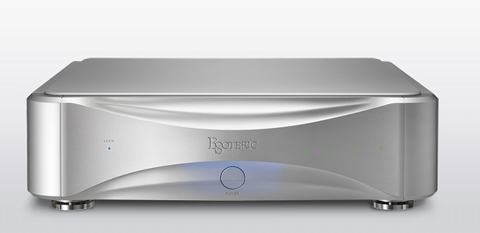 Source: Official website, Last Accessed: 2017/02/21
Esoteric recently announced a new Master Clock Generator in the Grandioso line, the G1. G1 is the flagship model of the Esoteric master clock generator line and adopts a high precision, rubidium oscillator with a frequency precision of ±0.00005 ppm used at its core. According to the details published, this oscillator module has been manufactured to Esoteric's specifications with sound quality and stability being given top priority.
The clock signal is output by four newly-designed "Wide Range Clock Buffer Amplifiers", each having a separate power supply regulator. The discrete circuits use high-speed transistors with excellent high frequency performance, which are perfect for generating digital waveforms with a high degree of accuracy. Combined with a heavy-duty power supply, these circuits greatly contribute to major improvements in sound quality by providing an accurate and stable timing signal to audio devices, the company states.
The Grandioso G1 is a unit dedicated to 10 MHz output, and can only be connected with compatible devices. The unit provides four terminals that output a 10 MHz sine wave clock, and is equipped with a new "Adaptive Zero Ground" mode that actively drives the ground signal to 0 volts. This greatly reduces noise (random jitter) caused by variation in the ground voltage. Switches on the rear of the unit toggle between the adaptive mode and normal mode for each output terminal, and allow the user to select the buffer amplifier drive method that is just right for their listening preferences.
The all-important internal wiring of the unit uses hardwired connections with custom coaxial cables of the finest quality. These cables adopt MIL-compliant gold plated SMA connectors that were specifically developed for high frequency transmission and original milled brass BNC terminals designed by Esoteric to achieve a secure connection, to minimize transmission loss.
The rear of the unit features a switch that toggles between the mode that completely shuts down the system when the power is turned off, and the recommended preheat mode, which continues to supply power to the internal rubidium oscillator. Keeping the rubidium warm reduces waiting time after the power is turned ON and enables the unit to provide its full performance immediately.
For more information: https://www.esoteric-highend.eu/
---