Exposure adds preamplifier and power amplifier to the compact XM series.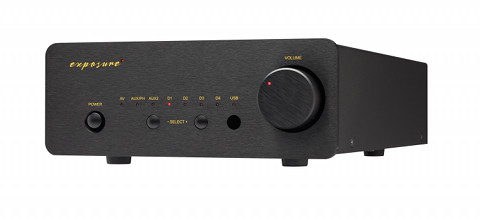 Source: Press Release, Last Accessed: 2017/06/29
Earlier in 2017, Exposure Electronics launched their new "XM" series of Hi-Fi components, packing an impressive complement of high-end features into a compact and affordable design. Now, the XM3 phono stage and XM5 integrated amplifier are joined by the new XM7 preamp and XM9 mono power amp.
The XM series is the first of Exposure's ranges to cleverly pack a full quota of high quality features into a narrow, half-width design. Kicking off the series were the XM3 phono stage and the XM5 integrated amplifier which, despite its compact size, put the "integrated" back into integrated amps with its incorporated phono stage and DAC.
The new XM7 preamplifier cannily tucks an even more extensive suite of features into its "bijou" box. Again, it includes a built-in moving magnet phono stage and a DAC allowing both vinyl and digital bliss. The DAC sports five digital inputs, plus there's a fixed gain home theater input and two headphone outputs. Two preamp outputs allow for bi-amping.
While the XM7 can be partnered with a wide range of power amplifiers or active speakers, it comes into its own when paired with Exposure's new XM9 mono power amps, described by designer Brady as "the highest performance amplifier we could fit into a compact chassis". While most compact Hi-Fi components (and, indeed, a good many larger ones) fall back on switch-mode power supplies, both the XM7 and XM9 feature a linear power supply with a large 200VA custom-made toroidal power transformer, the company says. According to the press release, only high quality resistors and capacitors are used in the signal path, while Toshiba bipolar output transistors are chosen for their superior dynamic performance.
The Exposure XM7 and XM9 are available from July 2017, each with black or titanium finish and a warranty of 3 years. Prices (including VAT, in the UK market) are £1,236 for the XM7 preamplifier and £1,388 per pair, for the XM9 mono power amplifier.
For more information: http://www.exposurehifi.com/
---