Genesis unveiled the Maestro loudspeaker.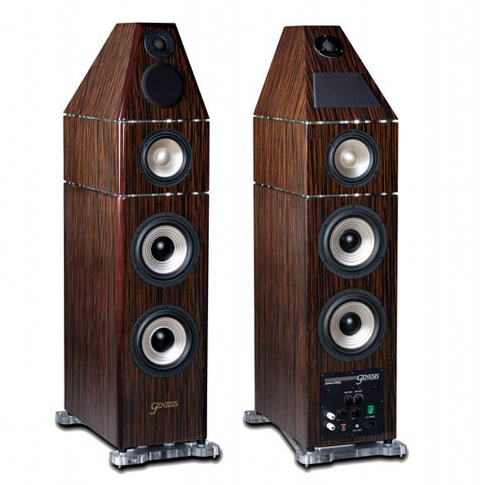 Source: Press Release, Last Accessed: 2017/02/01
Genesis Advanced Technologies recently announced their next generation of the highly regarded Genesis 5-series loudspeaker, the "Maestro".
According to the information published, the Maestro is a 5-way loudspeaker with two Genesis Ring-Radiator Ribbon Tweeters (front and back), a single 4.5-inch solid Titanium-cone midrange driver, two 6.5-inch aluminum mid-woofers and four 8-inch woofers with an integrated 500W servo-controlled bass amplifier.
The Maestro features the Genesis Acoustic Suspension system so that it can be used on the many types of flooring encountered throughout the world – including uneven natural stone tiles, smooth granite, deep pile carpet, and suspended wooden floors. Stainless steel spikes and a suspension frame hold the loudspeaker rigidly for best imaging and bass control. Neoprene decouplers act like shock absorbers, making sure that the cabinet is not affected by floor-borne vibrations.
The three sections of the loudspeaker – midrange/tweeter, mid-woofers and woofers – are housed in three separate cabinets with separate crossovers in each. The result is improved midrange clarity, a cleaner and tighter bass, more precise and pin-point image, and a holographic soundstage, the company says.
"The Genesis Maestro is just a little bit better than the old loudspeaker in every respect," said Mr. Gary Koh, CEO and Chief Designer of Genesis. "A little bit better bass. A little bit better clarity. A little bit bigger sweet-spot – vertically as well as horizontally. And a little bit more dynamic in the mid-bass."
The Genesis Maestro will be available through authorized Genesis dealers and distributors worldwide, Spring 2017.
For more information: http://www.genesisloudspeakers.com/
---