P-1000: Gold Note's first preamplifier, unveiled.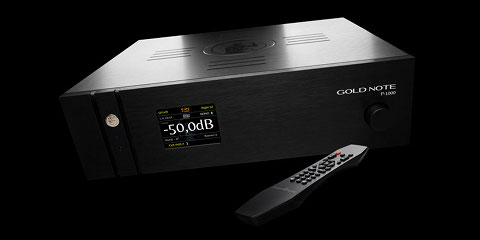 Source: Official website, Last Accessed: 2017/07/13
Designed for high end audio systems, P-1000 is an innovative Class-A line preamplifier powered by a new proprietary Six Gain Stage design, with a relay-based input selector and an optical Alps Encoder for volume control, addressed to real music lovers.
Completing the "1000" line of electronics, P-1000 is powered by a Triple Linear Transformer power supply and features ten independent analog stereo inputs, five fully balanced with XLR and five single ended with RCA, plus one optional digital input available on demand.
P-1000 belongs to a new era of electronics where "performance is combined with technology to offer the best possible musical experience and it's easy to control with a large color display showing all possible functions", the company states.
The P-1000 is based on the exclusive Gold Note "Ultra-Balanced" technology featuring six single gain stages, an approach which leads to low distortion and extended linear bandwidth. To perfectly reproduce old recordings, the preamp can be set to Mono mode, and -also- allows Left/Right channel swapping for the reproduction of inverted recordings. There is also an absolute phase (0°/180°) soft switch.
The preamp includes an "Over-Boost" function, to provide higher energy in the lower frequency range, a useful add-on, when the system needs to drive loudspeakers that require robust power supplies (Over-Boost is by-passed completely when positioned on Flat/0). P-1000 stores in memory both the settings and volume levels for every single audio input to allow for a better user experience and quick adjustments. For ultimate performance, the P-1000 can be upgraded with the external, dedicated class A tube output stages, TUBE1006/1012, and the super power supply unit PSU1100. The preamplifier can be updated with a computer through its rear USB port.
For more information: http://www.goldnote.it/
---