HiFiMAN unveiled new electrostatic headphone system, the Shangri-La.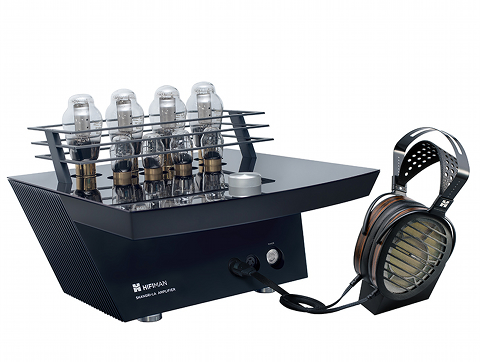 Source: Press Release, Last Accessed: 2016/12/12
HiFiMAN announced the introduction of an all-new, premium electrostatic headphone system called Shangri-La. Several years in the making, Shangri-La builds upon HiFiMAN's unmatched expertise in nanotechnology to create a cutting-edge headphone with virtually zero distortion and lightning fast response. A custom designed amplifier featuring four audiophile-grade 300B tubes is an integral part of the cost-no-object experience. Shangri-La first public display was during CES 2017 in Las Vegas and is available to pre-order with estimated delivery in Spring 2017, the company says.
At the heart of the technology of the Shangri-La headphones is an ultra-thin driver made only possible by nanotechnology. At much less than 0.001 mm, the Nanotech driver is so thin, it is not visible from the side with a naked eye. Nano-particle coated sub-micrometer thickness diaphragm provides an unsurpassed high frequency response. Not only is there radical new technology in the diaphragm and stators, the companion amplifier is another important reason why Shangri-La sounds better. According to the press release, electrostatic headphones require high voltage and solid state circuits cannot provide a sufficient high voltage so that it requires a transformer to boost the voltage to 500 to 600 volts and this process will introduce distortion. On the other hand, vacuum tubes are the perfect match because their output voltage is high, so the amp does not need a transformer to drive electrostatic headphones. In the Shangri-La amplifier, HiFiMAN uses four of the famous 300B vacuum tubes, acknowledged to be the finest available.
For Shangri-La, HiFiMAN utilized their proved Window Shade Grill special design which -according to the press release- provides driver protection, is optimized for open-back design and, also, yields the best possible sound quality. Aesthetically, as an added benefit, the Window Shade Grill also provides a unique, high-tech look to the headphones and an appropriate design complement to Shangri-La's premium alloys and wood trim.
The Shangri-La ear cups have been specially designed in an asymmetrical shape that follows the form of human ears. The ear pads are beveled so that they contour to the shape of the user's head for superb comfort during extended listening periods as well as a good acoustic seal. The ear pad's hybrid design utilizes polyester for increased resolution. The revised headband accommodates the widely varied sizes of people's heads and evenly distributes the pressure offering improved comfort and a better seal of the pads around the ears and on the head for improved bass. The headphones themselves weigh little more than 13 ounces (374 grams). The complete Shangri-La system is priced at $50,000 and is available to order now for estimated deliveries in late Spring 2017.
For more information: http://hifiman.com/
---