Klipsch unveiled the Heritage Amplifier to drive the most demanding headphones.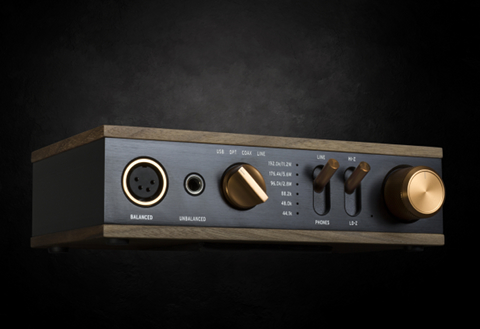 Source: Press Release, Last Accessed: 2017/11/28
Klipsch recently announced the debut of its Heritage Headphone Amplifier, a true audiophile solution with mid-century design characteristics that drives headphones to deliver music in the cleanest, most efficient manner, for higher energy and dynamics.
The Heritage is encased in formed aluminum with a genuine walnut veneer, giving it a nostalgic, vintage feel. Inputs and gain settings are controlled by weighted anodized aluminum switches and knobs for a high quality and satisfying tactile response. Its analog switches operate through relays, delivering the lowest distortion in its class and advanced sound staging abilities, the company states.
The amplifier is driven by a high resolution, high performance ES9018K2M ESS Sabre32 Reference DAC, capable of 192kHz/24-bit sample rates. Complete with dual Class-AB TI TPA6120A2 amplifiers, the signal path minimizes crosstalk while increasing total system output, Klipsch says. The amplifiers are as quiet as the DAC in order to provide the optimal signal to noise ratio. In addition to its primary use as a discrete balanced headphone amplifier, the Heritage Headphone Amplifier doubles as a digital analog processor for USB audio, optical, and coaxial inputs, making it an ideal desktop companion.
"Harkening back to vintage audio gear, this amplifier brings the nostalgia of flipping switches and turning analog knobs, while packing first class electronics for the best possible rendition of your music", said Vlad Grodzinskiy, Sr. Manager of Product Development for Klipsch Group, Inc.
The Klipsch Heritage Headphone Amplifier is packaged with a power supply, global power clips, and a 2m USB Type-A to USB Type-B cable. It is already available for $499 (MSRP).
For more information: http://www.klipsch.com/
---