Magico introduced the A3 floorstanding loudspeaker.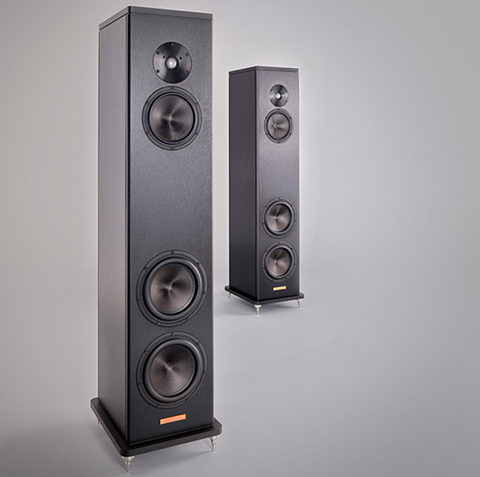 Source: Press Release, Last Accessed: 2017/12/16
Magico recently launched the A Series, starting with the A3, a loudspeaker obtainable by a wider audience bringing together a bevy of technologies unheard-of at its price point, including a fully braced and anodized aluminum enclosure, a beryllium tweeter, carbon Nanographene cones, neodymium based motor systems and Magico's renowned elliptical crossover.
According to the information published, extended (up to 50kHz) high frequencies are provided by a newly designed pure beryllium-diaphragm tweeter with an optimized 28-mm dome surface based on the fundamental design platform and geometry of the M-Project tweeter. The customized neodymium motor system is encased in an improved back chamber with Magico's latest generation damping materials that facilitate ultra-low distortion, higher power handling, massive dynamic capabilities and extended linear voice coil movement, the company states.
Mids are handled by a newly developed 6-inch driver employing a Multi-Wall carbon fiber cone with a layer of XG Nanographene, an approach providing optimal stiffness to weight ratios and an ideal damping factor. Dual 7-inch woofers incorporate a version of the new Gen 8 Magico Nano-Tec cone. The chassis has been simulated and tested for the optimal combination of stiffness and damping and minimum acoustical impact is achieved through reducing vibration modes while maximizing air flow. The A3 midrange and woofers were optimized for minimal music related distortions in their band pass, in both the frequency and time domains, using latest state of the art FEA simulation of acoustical, mechanical, electromagnetic and thermal behavior, Magico says.
The A3 features Magico's proprietary Elliptical Symmetry Crossover topology using components from Mundorf of Germany and consists of a 24db per octave Linkwitz-Riley filter that maximizes frequency bandwidth while preserving phase linearity and minimizing intermodulation distortion.
The A3's massive sealed-enclosure is made entirely from 6061 T6 aircraft grade aluminum, identical materially to the enclosure developed for the Q Series. This braced, complex internal structure is finished externally with an elegant brushed anodized "skin". Magico states that the A3 enclosure is best considered as a simplified Q Series design, with the same materials, the same craftsmanship, and the same attention to design and build detail.
The new loudspeaker offers a 22Hz-50kHz bandwidth, with a sensitivity of 88dB and impedance of 4 Ohms. Dimensions are 1120x270x230mm (hxdxw) and each A3 weights around 50kg. Estimated shipping date will be in Q1 2018, with an MSRP of $9,800 (in the US market).
For more information: http://www.magico.net/
---