Magico unveiled their new M6 floor standing, three-way, five-driver loudspeaker.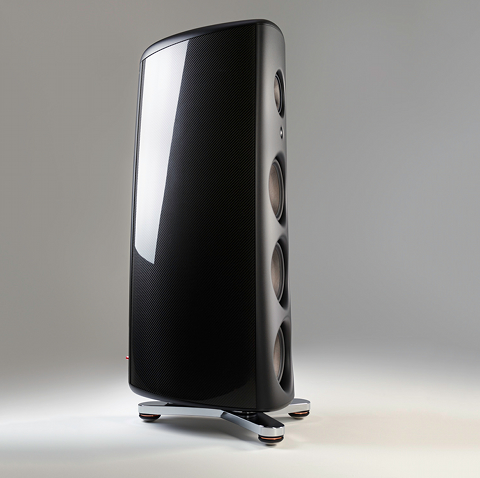 Source: Press Release, Last Accessed: 2017/05/18
Since the release of the M-Project in 2014, Alon Wolf and his engineering team have worked to expand upon the ground breaking designs that were first introduced in the critically acclaimed product which included the application of carbon side panels.
According to the press release, the new M6 represents the culmination of such efforts and a major advance in loudspeaker design. The most compelling aspect is the six-sided, monocoque enclosure, sculpted of half-inch carbon fiber, leveraging the latest aerospace materials and technologies. Similar to the external shell of an F-35 fighter jet, this method of construction increases the structural strength-to-weight ratio by a factor of 60, while reducing overall weight by 50% and yielding outer dimensions that are 30% smaller without compromising internal volume. The curved interior and exterior walls minimize internal standing waves and eliminate external diffraction effects.
Four massive aluminum billets are machined to produce a continuously curved exterior with no angles. A thick-machined aluminum inner baffle supports the drivers, while ten aluminum tension rods extend front to back to further stiffen the enclosure and eliminate the possibility of hardware loosening overtime. The new M6 enclosure is completely sealed and, in its finished form, has nearly zero diffraction effects which allow sound waves propagated by the transducers to disperse naturally without obstruction. This creates a sound-field that replicates that of the recording space and allows the speaker to completely vanish in its environment, Magico states.
A slight curvature in the machined front baffle enhances the seamless integration of all five drivers and provides an elegant appearance overall. The newly designed 3-point MPOD base provides a perfect coupling platform to the floor and supports the M6 as though it were floating in space. A new reverse horn-shaped sub-enclosure made of proprietary carbon fiber composite houses the midrange driver and provides an extremely stiff, yet ideally damped, chamber that disperses internal standing waves without the need for copious internal damping materials. The new M6 incorporates a more efficient version of the revolutionary tweeter found in the M-Project. A 28mm diamond-coated beryllium diaphragm with optimized geometry, brings the M6's high-frequency reproduction one step closer to perfection. The M6's new 6-inch midrange driver features Magico's graphene-based cone material, while bass is reproduced through three newly designed 10.5-inch Magico drivers that are produced using a new multi-wall carbon, Nanographene cone.
For more information: http://www.magico.net/
---