Harman's Mark Levinson introduced the №515, their first ever turntable.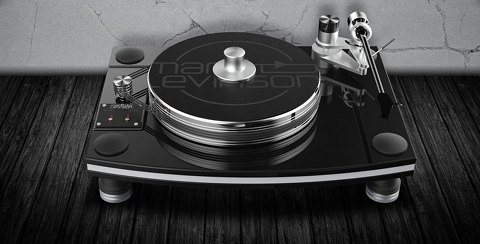 Source: Press Release, Last Accessed: 2017/01/04
Mark Levinson introduced the №515 turntable, designed for the discriminating analog music lover. Designed and built in partnership with industry-leader VPI Industries, the №515 is handcrafted in the USA, and is the first turntable worthy of the Mark Levinson name, the company says.
According to the press release, the №515 is the perfect complement to the Pure Phono stage included in the recently released №526 and №523 preamplifiers. A premium-caliber turntable, the №515 leverages superior technologies and craftsmanship from VPI Industries to deliver performance, features and appearance unique to Mark Levinson.
The №515 is based on a highly damped vinyl-wrapped MDF and aluminum sandwich main chassis. The chassis is supported by machined Delrin and Aluminum Mark Levinson feet with a vibration-damping polymer core. The 20-pound aluminum platter rotates on an inverted bearing, which employs a hardened stainless steel shaft spinning in a phosphor bronze bushing for maximum rotational accuracy.
The high torque AC/synchronous motor is mounted to a separate vinyl-MDF-aluminum sandwich chassis and housed in its own mechanically isolated enclosure. A precision-machined pulley and triple belt drive system provide smooth, quiet operation. A custom-designed, low-distortion analog oscillator and discrete, class AB power amplifier deliver pristine power to the synchronous motor for accurate 33 and 45 RPM operation.
The №515 features a gimbal-mounted, 3D-printed tonearm with integral headshell, stainless steel counterweight, and discrete internal cartridge lead routing. The tonearm is mounted to a rigid, machined aluminum arm base featuring on-the-fly adjustable vertical tracking angle. A custom designed stainless steel record weight and platter mat ensure maximum stability of playback.
The №515 turntable will be available either with or without a factory installed moving coil phono cartridge. Pricing starts at $10,000 for the version without phono cartridge, and both versions will be available in Summer 2017.
For more information: http://www.marklevinson.com/
---