McIntosh adds disc replay to its luxury compact audio system.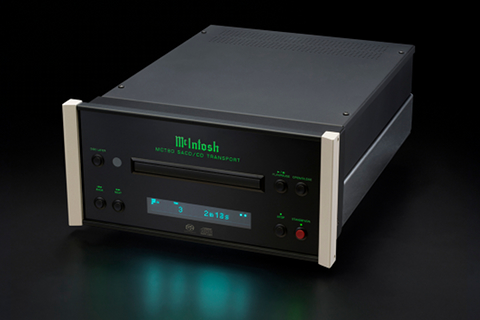 Source: Press Release, Last Accessed: 2017/09/07
The new MCT80 introduces SACD/CD playback to McIntosh's bijou MXA80 system and joins streaming, vinyl and headphone amp add-ons, to deliver the full McIntosh experience from a compact system. The MCT80's joins a number of other add-on modules, the MB50 streaming audio player, MP100 phono stage and MHA150 headphone amplifier, to provide a complete yet compact McIntosh solution for the office, bedroom, lounge or any secondary live/work space, the compay states.
According to the press release, for the utmost performance, the MCT80 reads the disc's audio data at twice the normal rate, ensuring better disc-tracking and error-correction processing, and includes a twin-laser optical pickup to assure optimal disc reading. The drive features a high-performance transport with a die-cast aluminum tray, plus an advanced digital servo for faster, quieter and more accurate disc-reading. All common disc types can be played, including: SACD; CD; CD-R/RW (MP3 and WMA), plus user-generated DVD or CD data discs with DSD (up to DSD128), WAV (up to 24-bit/192kHz), FLAC, MP3 files and more.
The MCT80 has three digital outputs: coaxial and optical (both supporting high-resolution 24-bit/192kHz audio) plus McIntosh's proprietary MCT connection which offers a secure DSD connection for high-res SACD audio (for the latter, it must be used with select McIntosh models that have an MCT input). For general CD playback, the MCT80 can be used with any DAC with a digital coax or optical input.
Designed to complement its compact McIntosh stablemates, power control and data ports integrate the MCT80 with other McIntosh system components. The MCT80 features classic McIntosh styling with a polished stainless steel chassis, black glass front panel, an illuminated logo and aluminum end-caps.
For more information: http://www.mcintoshlabs.com/
---