McIntosh's MA7200 Integrated Amplifier and MAC7200 Receiver.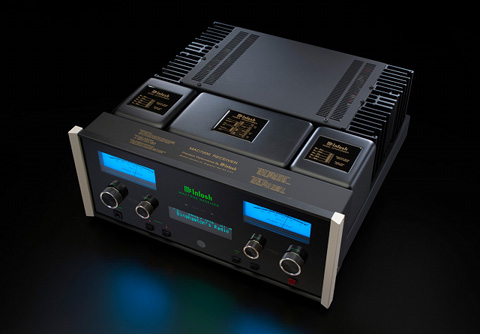 Source: Press Release, Last Accessed: 2017/09/13
McIntosh recently announced the MA7200 integrated amplifier and the MAC7200 receiver, each product combining the best-in-class audio performance of the legendary McIntosh Reference System with the latest in technological development.
The MA7200 is available exclusively for countries outside the US and Canada and offers 200W per channel and 14 inputs in total, eight analog (5 unbalanced, 1 balanced and 1 each of Moving Coil and Moving Magnet phono) and six digital (2 each of coaxial and optical plus 1 USB and 1 proprietary MCT for use with the company's series of SACD/CD transports). The digital inputs are housed in the DA1 Digital Audio Module, which can easily be replaced by future modules to keep the MA7200 current with the latest digital audio technologies. The DA1 comes with an 8-channel, 32-bit Digital-to-Analog Converter (DAC) used in quad balanced mode. The USB input accepts PCM signals up to 32-bit/384kHz and supports up to DSD256 and DXD 384kHz for high resolution audio playback, while the coax and optical inputs will decode music up to 24-bit/192kHz. All inputs can be given custom names for user-friendly system control and configuration.
The MA7200 features advanced high current output transistors that eliminate warm-up time and offers a full set of McIntosh goodies including Autoformers, Power Guard, Sentry Monitor, Home Theater PassThru, bass and treble tone controls, High Drive headphone amplifier with Headphone Crossfeed Director (HXD), and gold-plated speaker binding posts.
The MAC2700 Receiver is founded on the ΜΑ7200, and offers the same specs, including the 200W/channel of power output and the total of 14 inputs package and the DA1 digital audio module, but, also, includes a high-performance AM/FM tuner.
McIntosh designs tuners since the 1950s, with the groundbreaking MR78 FM Tuner from 1972 considered an all-time classic in the audio industry. The built-in AM/FM tuner in the MAC7200 comes from that same illustrious line of McIntosh devices and will pick up radio stations with unparalleled clarity and a realism that is free from noise and distortion, the company says. Its advanced signal quality monitor can display the multipath and noise levels of the incoming RF signal to help fine tune antenna placement for optimal reception. Dedicated Preset and Tuning knobs enable easy radio operation. The FM tuner includes Radio Data System (RDS) support, allowing it to display optional information sent by radio stations such as the station's name and call letters as well as the name of the artist and song being played. It features 20 presets for each radio band as well as a remote AM antenna.
For more information: http://www.mcintoshlabs.com/
---