McIntosh announced new top-of-the-range integrated amplifier.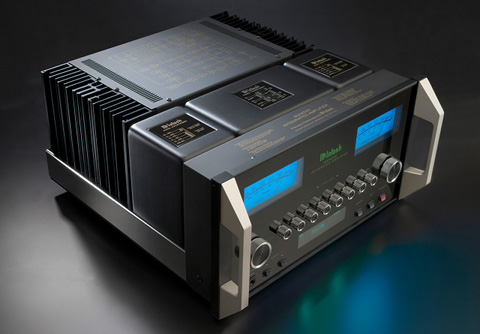 Source: Official website, Last Accessed: 2017/07/13
The MA9000 is McIntosh's largest integrated amplifier in both size and power, offering 300 watts per channel and combining their amplifier and preamplifier expertise into one comprehensive unit.
According to the details published, there are enough inputs and outputs on the MA9000 for every need: the 10 analog connections are comprised of 2 balanced and 6 unbalanced inputs plus one MC and one MM for turntable connectivity. Both phono inputs feature adjustable loading for fine tuning of vinyl playback. All unbalanced analog connectors are made from premium gold-plated solid brass for superior signal handling and grounding. On the digital side, 2 coaxial, 2 optical, 1 USB and 1 MCT input (for use with McIntosh's MCT450 SACD/CD transport) are all housed in the new DA1 digital audio module; the DA1 can be easily replaced by future modules to keep the MA9000 up to date as new digital audio formats and technologies are developed and utilizes a powerful 8-channel, 32-bit DAC used in quad balanced mode. The coaxial and optical inputs accept streams up to 24-bit/192kHz while the USB port accepts PCM signals up to 32-bit/384kHz and supports up to DSD256 and DXD 384kHz. All inputs can be given custom names for user-friendly system control and configuration.
The MA9000 features the new McIntosh Monogrammed Heatsinks that are made from high quality materials with excellent thermal conductivity properties and a higher quality finish thanks to a new manufacturing process. They are connected to advanced high current output transistors that eliminate thermal equilibrium lag time (or warm-up time), meaning the first note played will sound just as good as those played later in the listening session, the company states.
At 300 Watts per channel, the MA9000 has enough power to properly drive difficult loudspeakers – and the renowned McIntosh Autoformer guarantees that they will always receive that full 300 Watts regardless if they have 2, 4 or 8 Ohm impedance. Moreover, the MA9000 features the Power Guard circuit to prevent harsh sounding distortion and clipping and the Sentry Monitor fuse-less short-circuit protection circuit.
The amplifier includes a pass-thru input for seamless integration into a home theater system, a separate headphone amplifier with the HXD cross-feed circuit and a discrete, eight-band, tone control that allows for advanced manual analog adjustment. Loudspeaker connections are made through the patented, gold-plated, "Solid Cinch" binding posts that easily but securely attach the speaker cables to prevent them from coming loose and possibly causing a short.
The entire unit is wrapped in the classic McIntosh aesthetics, with blue watt meters, a black glass front panel, control knobs, illuminated logo, aluminum end caps with built-in handles and a beautiful polished stainless steel chassis.
For more information: http://www.mcintoshlabs.com/
---