McIntosh unveiled the MHA50 Portable Decoding Amplifier.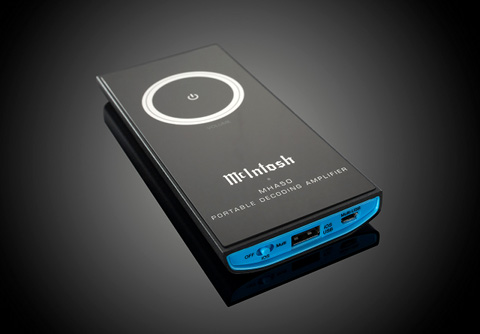 Source: Corporate website, Last Accessed: 2017/10/06
Nearly everyone walks around with most if not all of their music library in their pocket or bag where it's readily accessible via a pair of headphones. While convenient, it likely doesn't sound as good as it could. The handheld MHA50 Portable Decoding Amplifier can make your music sound its best –and likely better than you've ever heard it before– through your headphones, McIntosh says.
The MHA50 includes wired inputs for Apple iOS and Android OTG devices plus Mac and Windows computers. It can also wirelessly connect to these devices via Bluetooth 4.1 with aptX technology that ensures you receive the highest possible sound quality from your Bluetooth source device. Featuring a high-performance 32-bit DAC, it decodes music files from almost any digital source and supports 32-bit/192kHz hi-res, DSD64, DSD128, DSD256, DXD352.8, DXD384 files and asynchronous USB audio. Its 3,000 mAh rechargeable battery provides up to 6 hours of playback on a single charge when connected to a source device via Bluetooth; playback can last even longer when using the wired connections.
Comparably sized to smartphones, the MHA50 is compact and lightweight for easy portability with a beveled case that fits comfortably in your hand or pocket. Its sleek design features a glass front panel with a touch-sensitive volume control knob inspired by the classic knobs found on countless McIntosh products. It's built primarily from durable extruded aluminum which also has some inherent noise shielding properties to help block external interference, the company states.
Two gain settings allow the MHA50 to work with all types of headphones from small in-ear models to large over-ear studio type designs; it can drive headphones with impedance ranging from 8 ohms up to 600 ohms. Headphone Crossfeed Director (HXD) brings added dimension to your music in a natural sounding way and can be easily turned on and off depending on your preferences. Audio is output via a gold plated 3.5mm jack that connects the MHA50 to your headphones. This jack can also connect to a pair of powered desktop speakers, allowing the MHA50 to serve as a desktop DAC.
The MHA50 comes complete with a luxurious leather carrying case, a Lightning to USB-A cable for Apple devices, a USB micro-B to USB micro-B cable for Android devices and a USB micro-B to USB-A cable for Mac and Windows PCs. A wall mount charger with USA plug and adapter for Europe and Japan is also included.
For more information: http://www.mcintoshlabs.com/
---