Meters Music introduced the Meters Cubed wireless loudspeaker system.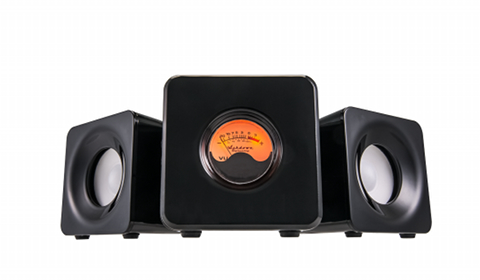 Source: Press Release, Last Accessed: 2017/09/07
Meters Music, the British music and audio innovator that became, initially, known to audiophiles through the OV-1 headphones, a system which includes a pair of VU meters attached to the earcups, recently introduced the Meters Cubed, a sleek and stylish desktop wireless loudspeaker system that combines a highly compact design with a powerful sound performance that belies its small size. Cubed is also adorned by Meters Music's signature, fully-functioning VU Meter – lending a dash of studio cool to the first of Meters' wireless speaker range.
Meters Cubed consists of three, easily desktop-mounted (90mm) cubes: one amplifier unit and two high-power stereo loudspeakers containing 2.5in drivers and delivering 10 watts per channel. The system utilizes Ashdown Engineering's signature VU meter, normally reserved for reading the input levels of musical instruments in recording studios. This illuminated VU shows the music playback level status at a glance.
Designed for streaming wirelessly from handheld devices, Meters Cubed features Bluetooth 4.0 technology, allowing its user to stream his music from a smartphone, tablet, laptop, PC or Mac with great ease and excellent audio quality, the company states, but, also, includes an auxiliary 3.5mm jack input for wired connection to non-Bluetooth devices.
According to the press release, the mains powered Meters Cubed takes up little desk space but packs a serious musical punch, featuring the mSound DSP Sound Enhancement Technology to deliver a sound of considerable scale, detail and power.
The Meters Cubed is already available in black or white finish.
For more information: http://www.metersmusic.com/
---