MusiCHI announced new version 6.1 with DSF (DSD) format support, two new GUI modes and more…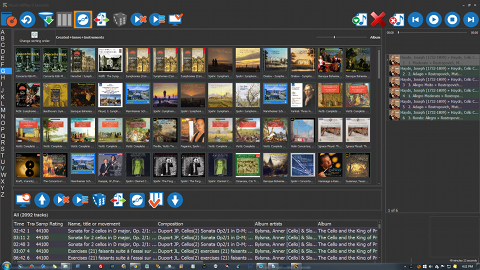 Source: Press Release, Last Accessed: 2017/10/11
MusiCHI Suite, the 4-in-1 application (Library Manager, Tagger, Ripper and Player) dedicated to classical, jazz and other data-intensive genres of music, has launched a new release. The Version 6.1 adds DSF (DSD) format support, a Simple Player and a Tablet mode, along with a couple of other interesting upgrades.
The DSF format is supported across the entire MusiCHI Suite and the tagging model is the same as the mp3's (Id3v2). As in all other MusiCHI formats, the meta-data will be stored inside the audio file. The company stated that as DSD is a bit of a hack, when a PC is used as a source, therefore the user have to check with his DAC, what settings are the most appropriate for listening. MusiCHI says their tests showed that either "on the fly DSD-to-PCM conversion" or the DSD-over-PCM (05/FA markers) with WASAPI and RAM playing are the best way to go.
The new version now includes two new GUI modes for the player, the Simple Player mode and the Tablet mode. In the Simple Player mode, the user can shrink the player to the playing queue only, a format which is more practical when one wants to use the file system to select the music, without the need to scan the meta-data into the library, so the whole screen space dedicated to searching is useless. The Table mode is a feature ported from the Client/Server version to the Local version of the software. Now, the user interface can be fully touch-controlled (with fingers, a stylus or a mouse) without the need of a keyboard. In Tablet mode the ruler will pop out on the left and the slider will go, on any column, to the 1st entry of a word starting with the clicked letter.
Additionally, MusiCHI, includes an improved version of Views. Views were introduced in September 2015 in version 5.0.2 and now the company offers a more complete version of this feature. In the current version, pretty much all screen parameters are saved and can be retrieved. If the user copies a library on different devices with various screen definitions, he can re-arrange his desktop in no time; additionally he can retrieve a particular screen arrangement for a special genre or artist.
Last but not least, MusiCHI v6.1 adds a function named "Disk Insomnia". This is a freely distributed application that can be used in stand-alone mode but it is, also, integrated in the player and prevents a disk from getting to "sleep-mode", which sometimes results in dropouts or delays between tracks.
For more information: http://www.musichi.eu/
---