NAD introduced the T 758 V3 7-channel A/V Receiver.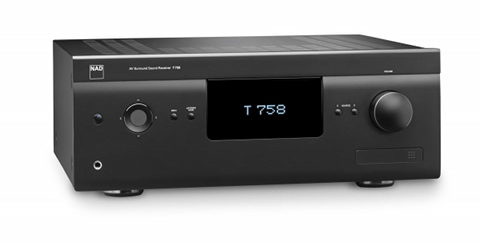 Source: nad_t758_v3, Last Accessed: 2017/09/07
The T 758 V3 is a performance update to NAD's award-winning T 758 A/V Surround Sound Receiver and continues their "simple is better" design philosophy, using advanced technology like Android and iOS Apps to make the smart phone a remote control for a NAD system, offering lifelike surround sound performance and heart thumping power to reach-out-and-touch-it 4K video. The new receiver features the well-known Modular Design Construction, in which digital audio and video circuits are on replaceable modules. With MDC, the ability to easily upgrade the T 758 V3 to include future digital formats is unique the company states.
The amplifier supports up to 7-channel systems (with a 7x60W power stage), and popular surround sound formats, including HD formats Dolby Atmos and DTS Master Audio, are decoded using the latest generation of high-speed multi-core DSP. Stereo source material can be converted to surround sound using NAD's exclusive EARS surround mode. The receiver features the SpeakerIQ technology, an easy way to set up a home theater, by using the supplied microphone and sending test signals to the various speakers in the room, to make any necessary adjustments after measure the distance between speaker and listening position, loudness, and frequency response of audio signals from each speaker. The T 758 V3 features built-in BluOS wireless streaming technology, for lossless music streaming to the home theater system from local libraries, Internet radio stations, and popular music streaming services. The user can control the music from anywhere in the house using the BluOS Controller App for smartphone, tablet and desktop, including the ability to group other BluOS compatible wireless speakers and music players with the T 758V3 to fill every room with music.
The T 758 V3 supports the latest digital video technology, including UHD video at resolutions up to 3840x2160 pixels at 60 frames per second with 4:4:4 color gamut and HDR support. Analogue video sources are also supported on HDMI for simple "one wire" connection to a flat screen or projector. It also includes popular HDMI features, Audio Return Channel (ARC) and Consumer Electronic Control (CEC).
The receiver offers AV Presets, to allow custom setups for different types of program material (drama, action, musical, etc) and its inputs can be renamed to match particular components. There is, also, the Dirac Live digital room correction technology to control both the timing and coloration in sound, using the supplied microphone and Dirac's powerful software.
For more information: https://nadelectronics.com/
---