Nakamichi announced Shockwafe 9.2 and 7.2 Ch DTS:X sound bars with wireless subwoofers and 3S rear loudspeakers.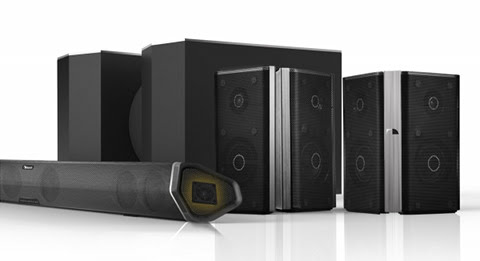 Source: Press Release, Last Accessed: 2017/08/24
Two new Shockwafe series sound bars equipped with DTS:X compatibility, dual wireless subwoofer configurations and signature 3S (Synchronized Surround Sound) rear loudspeakers hit the trifecta in terms of power, performance and simplicity. Based on sound quality, simplicity and price-to-performance ratio, they are arguably the most value-for-money sound bars that anyone who owns a HDTV would be interested in buying, the company says.
Nakamichi's two DTS:X-compatible additions to its Shockwafe sound bar series consists off the Shockwafe Ultra 9.2 DTS:X, a 45-inch sound bar system with 9.2 channels, two 10-inch wireless subwoofers and four modular 3S rear speakers and the Shockwafe Elite 7.2 DTS:X, with two 8-inch wireless subwoofers and two 3S rear speakers. Compatible with DTS:X, they both possess object-based surround capabilities for more "immersiveness" and flexibility in how surround sound can be experienced.
Out of the box, the Shockwafe Ultra Quad-U-Flex 3S loudspeakers are arranged into a dipole configuration: two separate enclosures that face outwards and away from each other, dispersing the surround effects away from the listener to eliminate localization effects. The enclosures can also be detached and placed in the room as four individual speakers for optimal placement to deliver the Ultra's 9.2 signature surround sound to any room shape or size.
Shockwafe Ultra supports the latest video standards including HDMI Audio Return Channel (ARC), 4K Ultra HD pass through, High Dynamic Range (HDR) and HDCP 2.2. Connectivity options include one HDMI/ARC and three HDMI inputs and optical/coaxial digital audio inputs as well.
For more information: https://www.nakamichi-usa.com/
---