Origine: Oracle's new affordable turntable.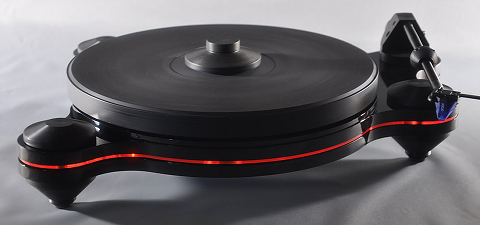 Source: Official website, Last Accessed: 2017/03/16
Oracle states that the new Origine turntable was created with one goal in mind; to answer the historical demand for an affordable, quality built and long-lasting record player. But although the Origine is at the entry point of Oracle's line of products, it maintains the high standards of excellence that is expected from the Canadian firm. Just like their other products, the Origine turntable is 100% designed, crafted and assembled at their factory in Canada.
With its outline shaped like the footprint of Oracle's flagship Delphi turntable, its adjustable Delrin feet system derived from their CD players and with the one-piece, acrylic platter inherited from the Paris MkV turntable, the Origine carries the signature of Oracle's design. It harbors a two-bushing spindle holder which is a direct descendant of the vintage Delphi's main bearing, who are still functioning well today after 30+ years! The Origine is equipped with an outboard synchronous AC motor that drive the platter using a belt around its perimeter. The two-step pulley of the Origine allows playback at 33 1/3 and 45 rpm. The turntable comes equipped with the new Origine tonearm and with the option of a factory pre-installed and adjusted Ortofon 2M Blue phono cartridge.
The Origine tonearm is a unipivot design with an effective length of 240mm, designed with its pivot contact point set on the same plane as the stylus contact point with the record and with the tracking force counterweight, for added stability while tracking the grooves. The compliance of a phono cartridge, or the "springiness" of the cantilever/motor suspension assembly, plays an important role with unipivot tonearms. Oracle addresses this issue by using a movable arm tube weight that they nicknamed "the olive", varying the tonearm's effective mass. This adjustment offers a better match of compliance and effective mass, thus allowing the use of a very wide range of phono cartridges with the Origine. The Origine tonearm has internal wiring from Cardas Audio.
Origine is available in two versions, one with a white and one with a black plinth and can be ordered with one or two different color inserts, thin colored layers permeating the plinth structure. There is, also, an optional dust cover.
For more information: https://www.oracle-audio.com/
---