Ortofon introduced the Quintet Moving Coil Cartridges.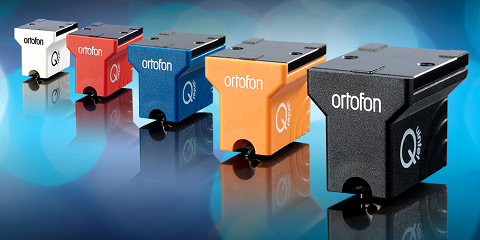 Source: Press Release, Last Accessed: 2017/11/15
Since 1948, Ortofon has introduced about 100 different moving coil models and nothing demonstrates the company's long-standing resilience more than its commitment to the refinement of analogue sound quality and its continued development of new cartridge models. The new MC Quintet is their most recent product series.
Each of the five Quintet Series cartridges has its own individual sonic expression, and all five models together, represent the ensemble of five classic variations: MC Quintet Mono is a true mono cartridge for playing mono microgroove vinyl records, the Red is an all-purpose cartridge that delivers open, dynamic sound with a slight touch of warmth, the Blue adds more dynamics and resolution, sounds more open and reproduces more details, the Bronze adds even more details and resolution but in a very evenhanded way that pays respect to all elements, and the Black S is the top-of-the-range of the series, true to the groove with resolution and accurate insight into each recording, the company states.
According to the information published, a special ABS (Acrylonitrile/Butadiene/Styrene) thermoplastic material is used for manufacturing of the body. This light-weight, impact resistant material is very suitable for injection-moulding and provides a very durable scratch resistant surface. Neodymium magnets are implemented to achieve an optimal output. Low internal impedance makes the cartridge less sensitive to load and therefore ensures compatibility with the widest range of preamps and transformers.
Top-mounting of the Quintet cartridges is easy and secure using the screws supplied. The aluminum frame has threaded mounting holes and is fitted easily with the 5mm or 7mm screws depending on the thickness of the headshell. The Quintet series' right angles, straight lines, stylus visibility and ample distance between the record surface and the cartridge's bottom will make it easy to mount and align the cartridge and tonearm correctly. The Quintet Series gives excellent results with most common tonearms, Ortofon says.
All five models have the same dynamic compliance (15um/mN), the same mass (9g) and feature the same -3dB frequency response (20Hz-25kHz). Stylus type is elliptical for the Mono, Red and Blue models, Fine Line for the Bronze and Shibata for the Black S. Sensitivity varies between 0.3mV for the Mono, Bronze and Black S and 0.5mV, for the Red and Blue (1kHz, 5cm/sec). The top of the range Black S achieves a channel balance lower than 1dB at 1kHz and a channel separation better than 23db at 1kHz.
For more information: http://www.ortofon.com/
---