Outlaw Audio announced the RR2160 Retro Receiver.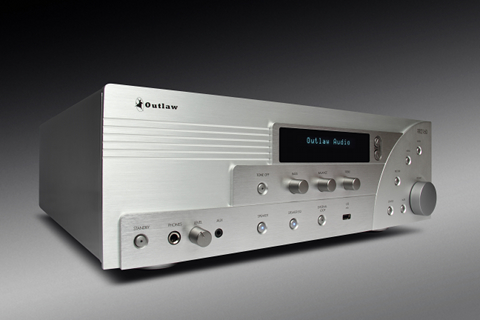 Source: Press Release, Last Accessed: 2017/06/22
Outlaw recently announced the successor of their RR2150 original Retro Receiver, a device which has won multiple awards, received outstanding reviews, and has consistently been one of the company's best-selling products. The new amplifier will offer higher power output, enhanced connectivity and both HD Radio and Internet radio capabilities.
According to the press release, "while many AVRs do a reasonable job of reproducing two-channel content, the serious stereo listener often requires a very different set of performance standards than their multichannel counterparts". Such unique requirements were at the top of Outlaw's list as they designed the new RR2160, to continue the legacy of its predecessor and further expand the mission statement to be "The Last Great Stereo Receiver", as they put it.
The amplifier section is all new, with power conservatively rated at 2x110W at 8 Ohms loads, 2x165W at 4 Ohm loads, (both channels driven, 20Hz-20kHz, <0.05%THD). The RR2160 retains a classic, noise-free linear power supply to drive large, power-hungry, full-range loudspeakers. The RR2160 offers a pair of both optical and coaxial digital inputs along with both front and rear-panel USB ports and features a Burr-Brown-based DAC with native 192/24 capability. There are six analog stereo RCA inputs, a 3.5mm TRS front panel jack and an external processor loop, which can be used as an additional input. In addition to these, an updated MM/MC phono preamp is included. The original audio receivers were designed to pack a preamp, amplifier and tuner in one package. The RR2160 goes beyond the standard FM/FM Stereo/AM tuner to add the quality and flexibility of HD-Radio and Internet Radio. A headphone amplifier, with a separate volume control is, also, included.
The new amplifier features a precision volume control and tone controls with a front panel defeat switch. For added low-end optimization, the RR2160 offers the option to add a half-octave of bass boost at select frequencies to improve bass response, particularly with compact bookshelf speakers, Outlaw states.
Other features include two remote triggers, Pre-Out/Main-In jacks, separate listening paths for the main and record outputs, dual subwoofer outputs and a dimmable two-line display.
For more information: http://www.outlawaudio.com/
---