Perreaux unveiled the new 255i Integrated Amplifier.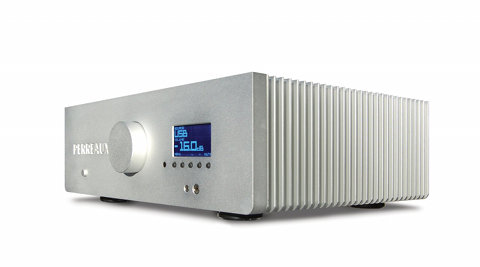 Source: Press Release, Last Accessed: 2017/11/24
What started a number of years ago as a project to upgrade to the optional DAC module for the Perreaux Eloquence series integrated amplifiers, has lead to the retirement of the Eloquence 250i and the release of the new 255i integrated amplifier. The 250i was in many ways the best integrated amplifier Perreaux have ever produced but its major shortcoming was with the internal DAC module, the company states. Therefore a redesign was in order, to bring the amplifier fully up to speed, using the DP32 USB DAC Preamplifier (which features the ES9018 32-bit chip from ESS) as a benchmark. Additionally a new USB interface was incorporated based on an X-MOS chip-set and on full galvanic isolation. During the development process, though, ESS announced the ES9038PRO chip and a full redesign was needed (including the power supply board) hence, the all-new 255i flagship integrated amplifier was the result.
The new amplifier yields the same power as the 250i, with a rating of 360W into 8 ohms and 530W into 4 ohms, but the power supply was upgraded. In the 255i the same number of capacitors are used (8x) but now each component is 6800uF instead of 5600uF, while, also, the design team opted for the very best quality small signal capacitors for the rest of the circuit.
The amplifier offers two add-on options, the ES 9038PRO-based DAC board, supporting all PCM sample rates, from 16-bit/44.1kHz up to 32-bit/384kHz and DSD up to 4x (DSD256) and a phono preamplifier board.
Perreaux introduced some upgrades in the aesthetics too. The logo lettering on the front panel was substantially increased in size and they opted for a cleaner 90 degree cut front panel and heat sinking solution. The exception to this is that the bottom of the front panel and heatsinks feature a small curve, which is a subtle but refreshing looking addition, the company states.
For more information: http://www.perreaux.com/
---