Pioneer's FAYOLA music-systems offer high-quality design, intuitive operation and maximum flexibility.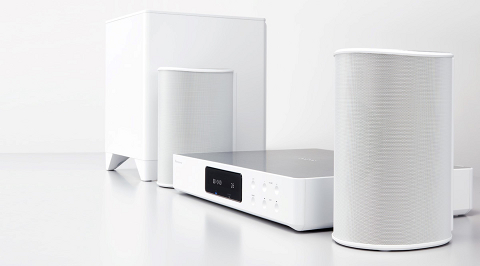 Source: Press Release, Last Accessed: 2017/03/27
The "Fayola" music-systems FS-W40 and FS-W50 overcome the limitations of ordinary audio-systems, offering free setup and flexible configuration, two-channel and surround transmission to loudspeakers and an almost unrestricted multi-room capability which can be used seamlessly with all streaming services and sound formats. The Pioneer Remote App for iOS and Android is available in the respective app stores for intuitive control - whether it is a single system or an entire multi-room network.
According to the press release, the Fayola main unit is flat, compact and not too heavy thanks to highly integrated board layouts. Its noble, reduced design with an aluminum surface and a new kind of ceramic reminiscent plastic also works in sophisticated rooms with a high quality and stylish design. This also applies to the supplied stereo loudspeakers, which both work actively and wirelessly.
The FS-W40 2.0 stereo system can be supplemented by the matching FS-SW40 subwoofer, which works just like the main loudspeakers wirelessly and is extremely flexible to set up. This subwoofer is already included with the 2.1 stereo system FS-W50. To convert the basic systems into a surround system only one - separately available – additional pair of satellite speakers FS-S40 is needed.
Fayola can stream any music source (the Internet, a locally connected device, a streaming service such as Spotify, Tidal or Deezer, a hard disk, a USB memory, TV or a smartphone) to compatible devices throughout the house, either synchronously as a group, or individually. The most important subscription music services are already natively supported, while any further data sources can be streamed via WiFi, Bluetooth and integrated Chromecast built-in technology (the later will be available through a future firmware update). Network streaming supports Hi-Res audio files up to 192kHz/24bit or DSD128. Both systems support 4K/60p, 4:4:4/24bit video including HDR, 4K upscaling and ARC to easily route TV-sound.
The Fayola systems are available in white and titanium-colored finish at the qualified specialist dealers. Prices are €1199,- for the 2.0 stereo set FS-W40 and €1499,- for the 2.1 stereo set FS-W50. The optional FS-SW40 subwoofer is available for €429,- and the surround satellite FS-S40 for €549,- per pair.
For more information: http://www.pioneerelectronics.com/
---