Pioneer introduced the PD-70AE flagship SA-CD Player/DAC.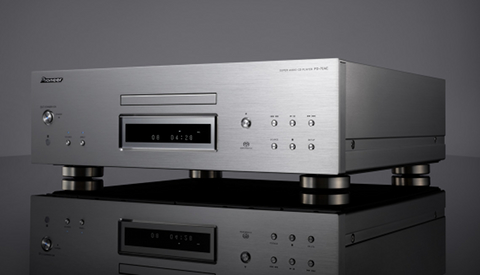 Source: Press Release, Last Accessed: 2017/09/14
Pioneer/Onkyo announced the release of Pioneer brand flagship SA-CD player and D/A Converter PD-70AE, a compilation of Pioneer's know-how, expertise on disc playback, represented by the original technologies on pickup control and quiet drive, and the latest digital audio design technologies. Featuring dual ESS DACs, XLR terminals with full-balanced circuitry, and a discreet analogue/digital power supply stage, the PD-70AE brings out the best from any SA-CD or CD album and other components for high fidelity reproduction with heart-touching sound, the company states.
In addition to being a SA-CD/CD player, the PD-70AE also functions as a D/A converter for delivering superb sound by bringing out the full potential of the high-performance ESS conversion chips while, the analogue stage features full-balanced circuitry. There are, also, single ended outputs with an on/off switching function available, offering high signal to noise ratio and low crosstalk between balanced and single ended output paths. Selected terminals are used for analogue balanced output (XLR3) and machined and gold-plated RCA terminals are used for the analogue balanced and unbalanced outputs respectively.
The player offers a "Lock Range Adjust" function, allowing for make fine adjustments in the DAC's digital input lock range, to reduce jitter in the input signal. Adjustments can be made in six steps, with the default set at "Range 6". The DAC features a digital filter with a variable time domain behavior, the user being able to select between "Slow" for soft and warm, "Sharp" for solid and tight, and "Short" for quick and forward sound.
The PD-70AE adopts a Rigid Under Base chassis, Pioneer's high-quality sound technology for 2-channel components, which works to eliminate external vibrations, providing steady bass reproduction. The CD drive is housed in a shielded case with honeycomb mechanism cover and anti-vibration paint. The drive base is securely fixed by an aluminum frame, and placed through a floating structure using damping pulp material, to minimize vibration within and outside the drive. The disc tray is made of die-cast aluminum, which enhances the tray's rigidity and helps to further stabilize the drive operation.
For more information: http://www.pioneer-audiovisual.eu/
---