Pioneer introduced the VSX-832 and VSX-532 5.1 channel AV Receivers.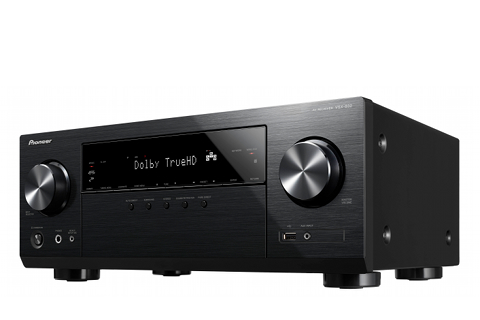 Source: Press Release, Last Accessed: 2017/03/30
Pioneer announced the VSX-832 5.1-Channel Network AV Receiver as its first device to support virtual Dolby Atmos through a 2.1.2 and 3.1.2 configuration (through a firmware update), offering, also, Dolby Vision compatibility, while the new VSX-532 5.1-Channel AV Receiver, is an entry-level model equipped with Bluetooth technology for those not requiring advanced networking capabilities.
The VSX-832 will support 2.1.2 and 3.1.2 channel Dolby Atmos, which uses digital signal processing technology developed by Dolby. Through this technology, virtual surround processing can accurately deliver sounds that would usually come from physical surround speakers. With 2.1.2 and 3.1.2 channel Dolby Atmos, anyone can experience Dolby Atmos, including those who cannot install rear or overhead speakers. The VSX-832 supports DTS:X with 2.1.2 or 3.1.2 channel as well.
The new receiver will be among the first Dolby Vision compatible AVRs, which will enable the pass-through of a Dolby Vision signal Pioneer stated. Dolby Vision transforms the TV experience in the home by delivering great brightness and contrast, as well as a fuller palette of rich colors. Both the VSX-832 and the VSX-532 also support pass-through for HDR (HDR10). By connecting the source device, users can enjoy these latest video standards on a compatible display, and all HDMI terminals support 4K, BT.2020, and HDCP 2.2, so owners will have no problem when upgrading to new devices.
While the VSX-532 has Bluetooth connectivity for easy streaming of audio content, the VSX-832 has a full slate of options including whole home audio solutions like FireConnect and DTS Play-Fi, as well as Chromecast (all three through a firmware update) and Apple AirPlay as well. Wireless connectivity is supported through built-in dual band Wi-Fi and Bluetooth, along with a host of Internet streaming services such as Spotify, Pandora, Deezer and TIDAL.
Creating the correct acoustic environment for both units is made easy by Pioneer's Multi-Channel Acoustic Calibration System (MCACC), developed with the expertise of professional recording studios. With the custom microphone, the system automatically compensates for differences in speaker size, level and distance, and equalizes response.
For more information: http://www.pioneerelectronics.com/
---