The +Record Player: The all-in-one turntable from +Audio.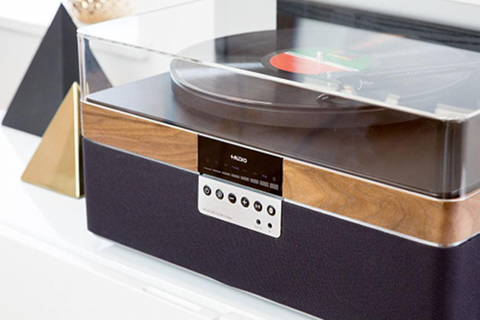 Source: Press Release, Last Accessed: 2017/11/10
Until now, no other all-in-one turntable system has succeeded in crafting the elusive combination of elegant design, advanced features and uncompromising audio in a compact one-unit package. The +Record Player from +Audio (Plus Audio) checks all of these boxes to please discerning vinyl enthusiasts seeking a high quality turntable solution to enjoy their record collection without the cost and complexity of a traditional component system.
Scandinavian designer Alexander Ahnebrink brings a modern elegance to The +Record Player within a product category most often associated with retro-style. The clean lines and Maple or Walnut finish choices of The +Record Player, blend seamlessly with any living space and its intuitive, no-fuss user interface makes it easy to enjoy the music.
A highly versatile analog and digital music system, The +Record Player offers a variety of listening options. A custom turntable by Pro-Ject offers 33/45 rpm vinyl playback, as well as Bluetooth, optical digital input, and a USB input/output to rip to a Mac or PC and play back your music files. A special auto signal sensing line input and a 5-Volt power supply is provided for seamless integration of Amazon Echo or Google Cast audio adapters.
The standard version of The +Record Player features an aluminum tonearm and an Ortofon OM10 cartridge. For those seeking a more premium combination, The +Record Player Carbon Edition adds a carbon fiber tonearm and upgrades the cartridge to an Ortofon 2M Red.
The +Record Player features a patent pending, exclusive and revolutionary technology developed by Bob Hazelwood, challenging the principles of physics and acoustics in self-contained vinyl playback systems. This system allows for powerful, low-frequency reproduction (down to 50hz) without disturbing resonances or distortions due to acoustic feedback, the company states. To further improve the listening experience,The +Record Player includes an exclusive "Wide" mode for room-enveloping spatial enhancement.
According to the details available, The +Record Player includes a powerful bi-amplified 100W in total (15W+35W per channel) loudspeaker system, featuring 1-inch soft dome tweeters and 3.5-inch mid/woofers, providing clear and accurate sound reproduction with the balanced low-bass and well-defined highs expected by audiophiles.
For more information: http://www.plusaudio.com/
---